Enrique Ponce discusses newborn daughter, Paloma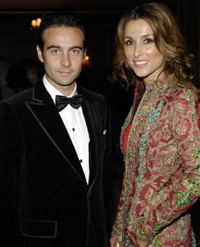 Enrique Ponce, who recently welcomed his daughter, Paloma, with his wife, jewelry designer Paloma Cuevas, called into the radio show, La Tarde de Ramon Garcia, yesterday afternoon to talk about the new addition to the family and couldn't hide his excitement over finally being able to see his baby girl.
It's something that can't be explained, it's a one-time moment. The moment you see your girl who has come into this world and they put her next to the father and the mother and you see how she looks for you with her eyes.
Out of the entire birthing experience, Enrique says that the first time little Paloma looked at him was the moment he can't get out of his mind and will never forget.
That look can't be erased. Out of everything, that's what stayed with me the most. The moment of her birth, when she started to cry and later when she was on her mother and she was looking for me with her gaze.
Continue reading for more on Enrique as the diaper expert and his retirement plan.
Enrique, who cut the umbilical cord, praised the doctors who assisted in the birth and said for now, they are just enjoying their new roles as parents.
They told me and I cut the umbilical cord. Paloma also had wanted me to cut it. She's really well. Everything went really well, thanks to God, and in the hands of Isabel Alonso and her team, who are all wonderful. We're all really happy and we're enjoying these first hours as parents.
Enrique, who wasn't familiar with diaper changing before, has now become the new "diaper expert" after changing her three times and says it's a party for him when he can change her diaper and give her a bottle!
I have changed her diaper at least three times. It's all a question of practice. I'm enjoying it so much. This has arrived at a time of maturity and at an age where it isn't the same being a father at twenty as opposed to being one a little bit older and that's how it is. To give her a bottle and to change her diaper is a party for me and for everyone else.
Although people had speculated that with the arrival of Paloma, Enrique might choose to retire from his job as a bullfighter, Enrique says that while right now he may be taking a small break, he has no plans to retire!
Right now little girl Paloma can get what she already has — that I bullfight less, but an actual retirement isn't something you say all of a sudden. It's closer, I obviously have spent 20 years bullfighting, and now it's closer. I am really looking forward to this season. I'm at the best time in my life, both personal and professional.
Source: Hola!