Bertin Osborne and wife expecting second child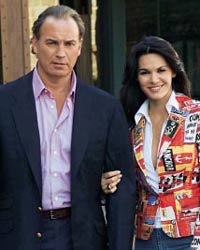 Spanish singer Bertin Osborne, 54, has announced during his promotional tour for his new CD, Va Por Ellos, that his wife, Fabiola Martinez, is currently two months pregnant with their second child. The couple, who are already parents to Kike, 15 months, said they would have liked to wait until Kike was at least two or three to get pregnant, but that they are "very happy" with the news. Bertin also revealed that when Fabiola is far enough along, they will be finding out the sex of the baby, and are hoping for another little boy.
Bertin has three daughters from previous relationships; Eugenia, Claudia, and Alejandra, who had her first child days before Kike was born.
Source: Hola!