Update: Contest: Win a $100 gift card to Ann Taylor LOFT Maternity!
Update: The winner is Charla, who said,
My favorite look from the Ann Taylor Loft maternity line is theShadow Floral Crossover Top paired with the Ankle Demi Panel SateenPants. It is so classy yet cute. If I won, I would buy the Shadow Floral Crossover Top and the Deco Floral Empire Dress.

I am due July 23rd with my first baby! I could so use this giftcertificate as my maternity wardrobe is pretty paltry. I've tried tobe very economical, and sadly, it really shows. Looking at this linemade me really want to go shopping. It was so hard not to just placethis order!
---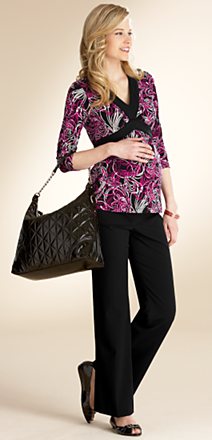 Ann Taylor LOFT provides women with updated classics that are feminine, stylish, and polished. Now the company has taken another step forward in outfitting women across all aspects of their evolving lifestyle, by taking the look and feel of favorite LOFT styles and re-designing them to make maternity wear that is both functional, stylish, and makes women feel their best!
CBB Deal: Save 20% on any maternity purchase and get free shipping through April 30, 2008 when you use coupon code LOFT4MOM at www.anntaylorloft.com. (The code is case sensitive and needs to be entered in all caps when it asks for the promotion code in checkout.)
Win a $100 gift card to Ann Taylor LOFT Maternity! Click Continue Reading for more info.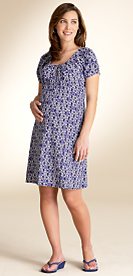 Enter to win a $100 gift card to Ann Taylor LOFT Maternity. Email the following info to celebritybabyblogATgmail.com (be sure to replace AT with @).
Your full name, mailing address, and email address.
What is your favorite look from the Ann Taylor LOFT Maternity line?
If you win, what will you buy with your gift card?
When are you due? Is this your first pregnancy?
Make sure you put "Ann Taylor LOFT Maternity" in the subject line in order for your entryto be counted.
Any entries that don't include all of the info will not be counted. The contest closes tomorrow at 7 am EST. (For terms & conditions, click here.)