Angela Kinsey celebrates baby showers; blogs about pregnancy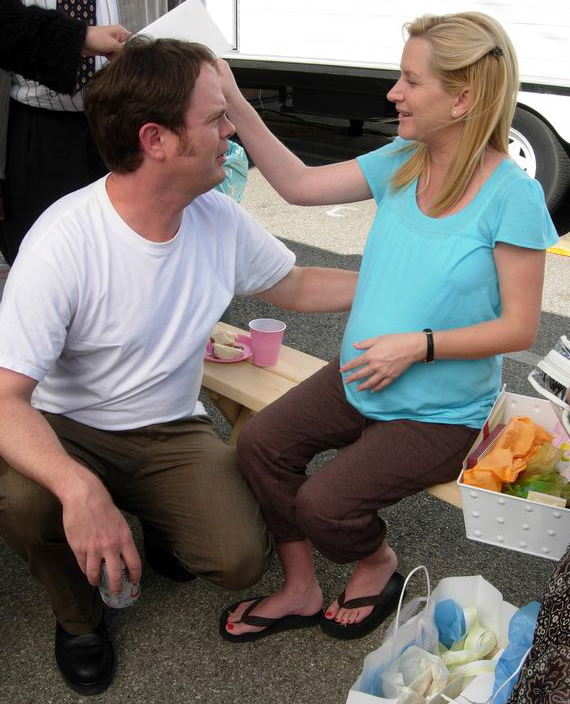 The Office's Angela Kinsey has posted photos from her baby showers — both her family party and one thrown by Office castmates — to her official Myspace page (you must have a MySpace page to view; however they are public). The 36-year-old actress and her husband Warren Lieberstein expect their daughter on May 9th.
In the photo to the left, taken at the Office baby shower, Angela chats with co-star Rainn Wilson. She also blogged about her pregnancy, now in its 39th week.
We are having a heatwave in LA. I'm too pregnant for this heat!My hands and feet look ridiculous. My new favorite thing is thechocolate sundae at McDonalds. That's good for the baby, right? :/So folks I'm fastly approaching my due date and I thought I'd dropy'all a line to say hi before the wonderful craziness of having a anewborn takes over my life.

I think I'm finally ready for this baby. Wait, let me say asready as I can be. I am so excited to meet her! I finally got to seeher little face in a 3-d sonogram picture. I'm sure she is going tolook different but it was so neat to get a glimpse of her! The nurseryis done and it turned out so dang cute. I have a very modest housethat was built in 1953 so the rooms are kinda tiny but it makes forsuch a cozy, comfy baby's room.
Click below for Angela's thoughts on possibly doing a magazine photo shoot with her daughter, and to view all shower photos.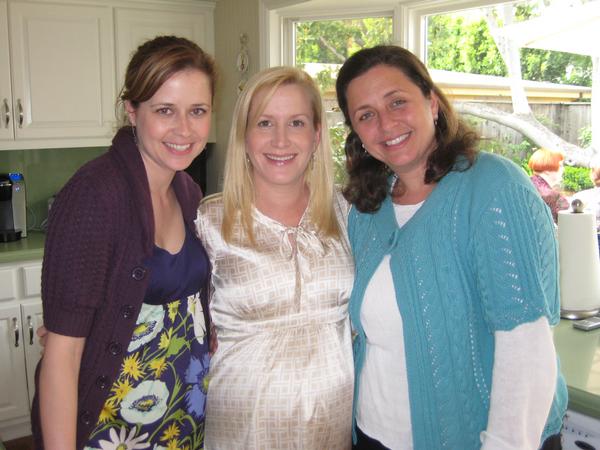 Some of you have asked if I am going to do a magazine photo shoot ofme, the baby or the nursery. I am still on the fence about this. It'sjust such a tough decision for me.

I'd love to share photos of mynursery and etc.. with all of you. That is just the girl in me wholoves crafts and decorating and wants to gab away with you guys aboutevery little detail. And of course my sisters think a magazine withher and I in it would be such a neat thing for her to have someday andtoo cute for my baby scrapbook. But there is part of me that wants toprotect her from the world. It all depends on how comfortable I feelonce she is here and safely in my arms. I'll keep you posted!
Thanks to CBB reader Leslie.