Update: Contest: Win a copy of The Diving Bell and the Butterfly!
Update: The winners are:
Anne, who said, "I'd love to win this DVD as I am a home care nurse & think this movie should be shown to lots of different types of patients who need inspiration to rise to the occasion despite their circumstances."
Jessica, who said, "I would love to win this DVD for my husband. He very much wanted to see it when it was in theaters, but we were unable to because we were on a "movie hiatus," trying to save money for a house.
---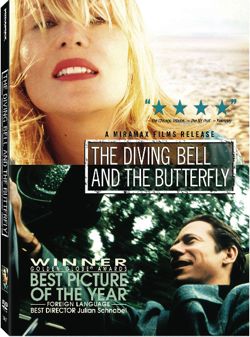 Miramax Films presents the extraordinary story of Jean-Dominique Bauby, a man whose indomitable imagination and love of life shaped his will to achieve a life without boundaries when The Diving Bell and the Butterfly comes to DVD on April 29, 2008 from Walt Disney Studios Home Entertainment. Winner of the 2008 Golden Globe® for Best Foreign Language Film and Best Director, The Diving Bell and the Butterfly was also nominated for Academy Awards® in the Directing (Julian Schnabel), Cinematography (Janusz Kaminski), Adapted Screenplay (Ronald Harwood) and Editing (Juliette Welfling) categories. The DVD is priced at $29.99 SRP/$19.95 MAP.
Based on Bauby's best selling memoir of the same name, this triumphant true story inspired renowned filmmaker and visual artist Julian Schnabel (Before Night Falls) to create a film of unprecedented visual and emotional impact. Written by Academy Award® winner Ron Harwood (2002 winner for Best Adapted Screenplay; The Pianist), the film also features the spectacular photography of two time Academy Award® winning cinematographer Janusz Kaminski (1999 winner for best Cinematography; Saving Private Ryan and 1994 winner for Best Cinematography; Schindler's List, Saving Private Ryan).
Win a copy of The Diving Bell and the Butterfly! Click Continue Reading for the details.
Jean-Dominique Bauby (Mathieu Almaric) was felled at the age of 43 by amassive stroke that left his body almost completely paralyzed but hismind intact—what doctors call "locked in syndrome." In a heartbeat, hewent from the well-known editor of a top magazine to a prisoner in hisown ruined body, able only to blink his left eye. Remarkably, Bauby wasable to use that eye to dictate a memoir to his dedicated speechtherapist (Marie-Josee Croze)—one letter at time. Director JulianSchnabel, screenwriter Ronald Harwood and cinematographer JanuszKaminski translate Bauby's memories and extraordinary inner life into avisually astonishing and emotionally wrenching saga in The Diving Belland the Butterfly. Bauby's interior chronicle – his memories,fantasies, pain and spiritual triumph – are eloquently brought to thescreen in this unforgettable film.
The internationally acclaimed cast is led by Academy Award nominee andscreen legend Max von Sydow (1987 nominee for Best Actor in a LeadingRole; Pelle Erobreren), Cesar Award Winner Mathieu Amalric (2004winner for Best Actor in Rois Et Reine; 2004), Cannes Film Festivalwinner Marie-Josée Croze (2003 winner for Best Actress; Les InvasionsBarbares), Cesar Award nominee Anne Consigny (2005 nominee for BestActress; Je Ne Suis Pas) and Cesar Award winner Marina Hands, (2007nominee for Best Actress; Lady Chatterley).
Bonus features include:
Submerged: A look inside The Diving Bell and the Butterfly
A Cinematic Vision
Audio Commentary with Director Julian Schnabel
Charlie Rose Interviews Julian Schnabel
Enter to win one of 2 copies of The Diving Bell and the Butterfly! Email the following info to celebritybabyblogATgmail.com (be sureto replace AT with @).
Your full name, mailing address, and email address.
Who will receive this DVD?
Make sure you put "The Diving Bell and the Butterfly" in the subject line in order for your entryto be counted.
Any entries that don't include all of the info will not be counted. The contest closes tomorrow at 7 am EST. (For terms & conditions, click here.)