Randy Orton excited to be having a little girl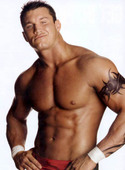 Despite rumors going around the Internet, saying that they are having a boy, WWE wrestler Randy Orton is having a daughter with wife Samantha, and he couldn't be more excited. The 28-year-old recently shared,
It's definitely changed me. I have a wonderful wife that wouldn't hurt a fly, and I think a lot of that has rubbed off on me. I can't wait to be a dad, and the fact that I'm going to have a little girl — I jumped through the roof when we were at the doctor's office and he said that we were going to have a daughter.
Randy and Samantha expect their daughter in July.
Source: Baltimore Sun
Thanks to CBB reader Malia and Kelly.