Update: Contest: Win a $250 gift certificate from Polka Dot Design!
Update: The winner is Corey, who said,
If I won this fabulous prize, the first thing that I would do is create invitations for my son's baptism that is taking place in August. I would also make coordinating thank you cards to send out after the ceremony, to friends and family that presented us with a gift for our son!

Secondly, I would make a beautiful set of note cards for my mother, probably with a monogram adorning them, and have them sent straight to her home in Arizona. We correspond primarily through the mail, (besides talking on the phone), because there is something so special about receiving a hand written note amongst the pile of junk mail and bills, that can make your whole day! (Especially when the note is written on beautiful stationary!) This tradition began with my Nana, (my mothers mother), and the hand written letters sent between us are some of my most prized possessions now that she is gone… This prize would be greatly cherished, and each note, or thank you card that is written, will be cherished by it's receiver.
CBB Deal: Use coupon code CelebrityMD to save 20% at PolkaDotDesign.com, valid through May 11, 2008.
---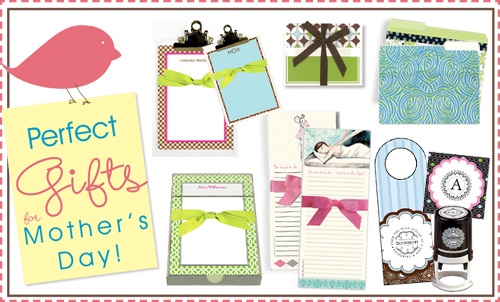 Polka Dot Design is a fantastic website known for their endless array of custom invitations and stationery. Whether it's weddings, birthdays, or holiday parties you'll find something for every occasion at this one stop shop for fabulous paper products and gifts.
If you're still searching for the perfect gift for mom, Polka Dot Design's new Mother's Day Collection has something for everyone! You'll find beautiful journals, unique cards, custom stamps and embossers, and stylish stationery.
Halle Berry is a fan of the new Owl Collection and Polka Dot Design recently created several custom pieces for her daughter Nahla.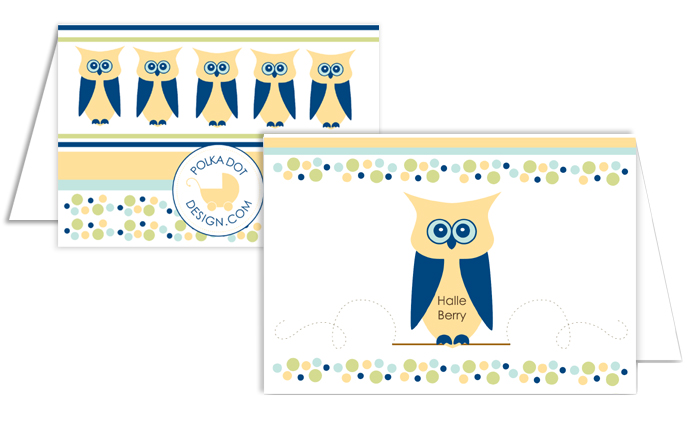 Enter to win a $250 gift certificate from Polka Dot Design. Email the following info to celebritybabyblogATgmail.com (be sure to replace AT with @).
Your full name, mailing address, and email address.
If you won, what would you spend your $250 gift certificate on?
Would you spend it all on yourself or would you get some gifts for the mothers in your life? (Don't worry- you deserve it!)
Make sure you put "Polka Dot Design" in the subject line in order for your entryto be counted.
Any entries that don't include all of the info will not be counted. The contest closes tomorrow at 7 am EST. (For terms & conditions, click here.)