Jennie Garth blogs about her big parenting 'no-no'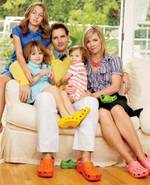 In a series of recent blog entries for ParentsConnect.com, actress Jennie Garth shares several of her parenting secrets — for everything from a healthier recipe for waffles, to her bedtime ritual for daughters Luca Bella, 10 ½, Lola Ray, 5 and Fiona Eve, 18-months. Of the latter, Jennie freely admits that her habit of laying down with the girls until they fall asleep is considered "a big no-no" by doctors, but the 36-year-old former Dancing With the Stars contestant says she has no plans of stopping the practice anytime soon.
I refuse to give it up. My kids are so busy all day long with school and sports and after-school activities that I need that downtime with them. That quiet, intimate time is the best! I'm able to focus on each one of them, and I love it. It's my favorite part of the day. Kids grow up so quickly. The next thing you know they're in high school and you're the last person they want to be lying next to before they go to sleep. I want to cherish this special time and make the most of it.
Jennie also shared that she and husband Peter Facinelli "tried the whole 'cry it out' thing" and "it just didn't feel right."
So I decided to take this approach and it works for us. And as far as I can tell, my girls haven't suffered for it. They're respectful and independent. They're not afraid to try new things or do things by themselves. So whatever we're doing seems to be working great!
For more of Jennie's blog entries click 'continue reading.'
Like most kids, Luca, Lola and Fiona like to eat waffles "every single day," Jennie says. But instead of buying the frozen variety, Jennie makes her own — so that she can add ingredients to make the girls' breakfast-of-choice more nutritious.
On Monday mornings, I make a hugebatch of batter (from a regular old mix), and then add some wheat germ and pureed yellow squash. I put them in the iron, serve them hot and freeze the rest of the batter for every other day of the week.
Jennie also blogged about the different approaches she's taken to family cooking as her family has expanded. Like many first-time parents, Jennie admits that she often prepared two meals — one for Luca, and one for she and Peter. With the arrival of Lola, that practice came to an end.
I decided that I would make one meal for the whole family. At times I'm tempted to make something else for the kids if they don't like what I'm serving, but so far I've stayed strong. I only make one meal a night that all five of us eat, and it's great!
ParentsConnect.com is a website that provides parenting advice for teens, toddlers and families.