In memory of Audrey Caroline Smith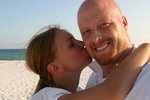 Earlier this month, we posted about the birth and passing of Audrey Caroline, the daughter of Selah member Todd Smith and his wife Angie.
In honor of their daughter, Todd and Angie have written a song with their friend Christa Wells, entitled I Will Carry You. The song shares their thoughts and feelings during Audrey's short life. To view the video, please click below.
Source: The Story of Audrey Caroline
Thanks to CBB reader Amy.