I Bought It: Readers tell us about their CBB-inspired purchases: Focus on BabyLegs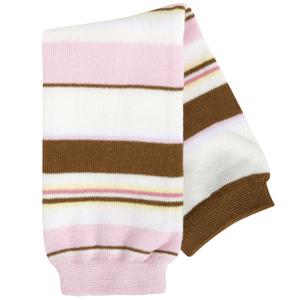 We know that CBB Readers love to shop via the site so we asked everyoneto tell us what they've bought based on what they've seen on the site-photos, reviews, ads, giveaways, etc. There were quite a few readers who told us they had purchased BabyLegs so I decided to dedicate a special edition of I Bought It! to these adorable and practical leg warmers.
Many of us at CBB are fans of BabyLegs but when I first saw them, I thought they were silly. Not only are they adorable to accessorize with, they are great for extra warmth and coverage under pants, skirts, dresses. (Check out our first review here.)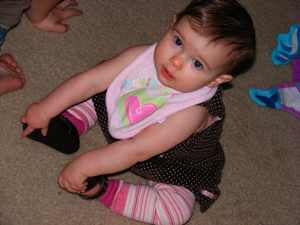 CBB Reader Steph told us:
I bought these Not Sox leg warmers as soon as I saw them at Target. I took one look at them and said, "like BabyLegs," having remembered them from your site. Turns out they are made by BabyLegs. I think they cost about $12. So CUTE on my Alyssa (9 months)!
[Alyssa is wearing NotSox in Sunday . Visit her mom's blog Scrappin' Seminole!]
Click below for more CBB readers and what they bought.
I saw BabyLegs on your site and purchased them for my son Trout this winter, I thought they would come in handy when he was sitting in his stroller over his pants since his pants would rise when he was sitting. I use them more now because he is just starting to crawl and i think it will provide a little padding for his knees.
[Trout is wearing BabyLegs in Getting On Argyle and FernGully Organic.]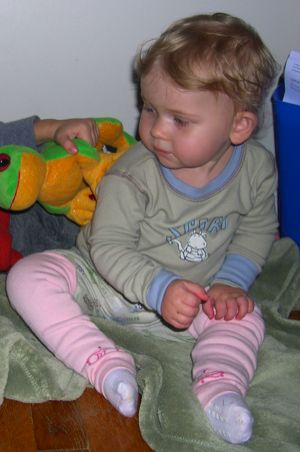 CBB Reader Wendy wrote:
Well, I am not sure where to begin. I have been reading your website for almost four years and truly enjoy the reviews and input on cool baby items available! When my stroller broke, I came here for input on what has worked for everyone else. Below are the items that I could remember and I am sure that there have been more!!!
[Wendy's daughter is wearing BabyLegs in Pink Ribbed. Her son is wearing Robeez Firetruck shoes in navy.]
CBB Deals:
---
Have you made purchases based on what you've seen or read on CBB? EmaildanielleATcelebrity-babies.com [replace the AT with @] to tell us about it! Make sure you put"CBB Purchase" in the subject line.