CBB's Danielle quoted in new article for LifeScript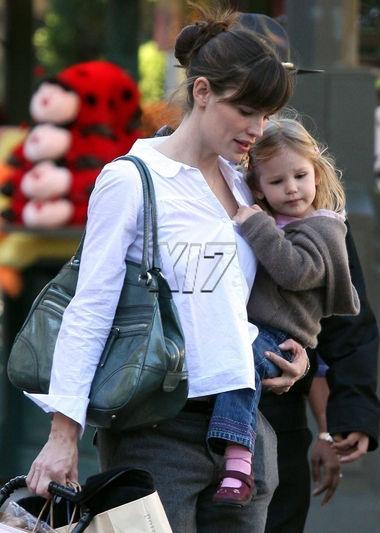 In honor of Mother's Day, LifeScript recently published an article on "5 Famous Moms Making a Difference" — and they looked no further than CBB Publisher Danielle for input on just who those difference-makers are. LifeScript singled out Angelina Jolie for her humanitarian work, Jenny McCarthy for bringing autism awareness, Julia Roberts for her commitment to the environment, Brooke Shields for speaking out about her battle with postpartum depression and Jennifer Garner for her decision to take a year off from acting in order to focus on daughter Violet Anne, 2.
When asked by LifeScript whether motherhood has "softened" some celebrities, Danielle noted that "when you become a mother, you put things in perspective." She added,
You live for your child now and everything else pales in comparison.
For more quotes from Danielle's interview that didn't make the article, click 'continue reading.'
Danielle was asked why celebrity babies and their moms remain such a "hot" part of pop culture. She replied by noting that although "we are obsessed with celebrities in general," a celebrity pregnancy and celebrity parenthood puts that celebrity "on the same level" as other moms.
We love celebrity moms because for once we are all on the same level- we all have fierce love for our children. Plus it's fun to see celebrities gain weight!
When asked about the lifestyle changes often brought on by motherhood, for celebrities and non-celebrities alike, Danielle said that,
You live for your child now and everything else pales in comparison. Plus parenthood is exhausting and when you're tired, you have less patience for nonsense. It's definitely given Nicole Richie new purpose and a new image. However I do not recommend motherhood for those in need of an image makeover because it's a lifetime commitment!
Danielle was then asked to pick the "most famous" celebrity moms, and she singled out Jennifer Garner, Naomi Watts and Keri Russell as her personal favorites because they seem "so down-to-earth — they're kinda crunchy boho proud breastfeeding moms who can really glam it up when necessary but you get a sense that they'd rather be hanging with their kid on the sofa reading Brown Bear Brown Bear than schmoozing at an awards show."
Most of the photos we see of them have them out with their kids doing mundane tasks, like shopping at the farmer's market and at the playground. They seem, as Us Weekly would say, 'just like us!' Ok and I'll admit it- I AM fascinated by Angelina Jolie because she's got a kooky past but obviously head over heels in love with her kids and motherhood plus she always looks so glamorous.
Finally, Danielle was asked about which celebrity mom-and-daughter duo she and Anya would most like to have a playdate with. Danielle chose Jennifer Garner and Violet "because Violet is my daughter's age so they would be so cute playing together." She added,
Jennifer seems like a fun person to hang out with and Violet is almost as cute as my daughter!
LifeScript acts as a provider of personalized health and wellness solutions designed to help consumers make better and more informed lifestyle choices. It also provides free and up-to-date health content in the form of daily newsletters and web portals across a range of health categories.