Enrique Ponce and Paloma Cuevas welcome daughter, Paloma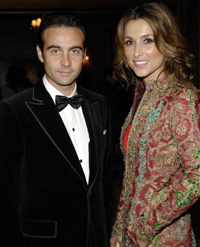 Spanish bullfighter Enrique Ponce, 36, and his wife, jewelry designer Paloma Cuevas, became first time parents today, Sunday April 27th, when they welcomed their baby girl Paloma in Spain. The little girl was delivered by cesarean around noon and both mother and daughter are said to be doing very well.
Paloma's father, retired bullfighter Victoriano Valencia, was clearly excited and told the press waiting outside that everyone agrees she is the most beautiful baby ever!
She's blonde and has light eyes. She looks like both of them. Everyone who has seen her has said she is the most beautiful girl they have ever seen.
Source: Hola!