Paulina Rubio's mom jokes about her daughter's pregnancy rumors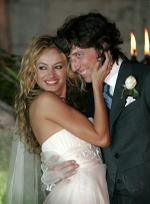 Mexican singer Paulina Rubio, 36, has been constantly rumored to be pregnant ever since she wed Nicolas Vallejo-Najera in 2007. Although all of these rumors have later been denied, Paulina's mother, Susana Dosamantes, recently joked about how many grandchildren she has "hidden away."
Whenever she comes [to Mexico], they say she is pregnant, that is why I always joke around that I now have twelve grandchildren hidden and that one day I am going to bring them all out. Every trip is a new pregnancy, she has more kids than an elephant … she's been getting pregnant for fifteen years now.
Source: Latin Gossip