Nick Nolte's Special Edition Indie Bumbleride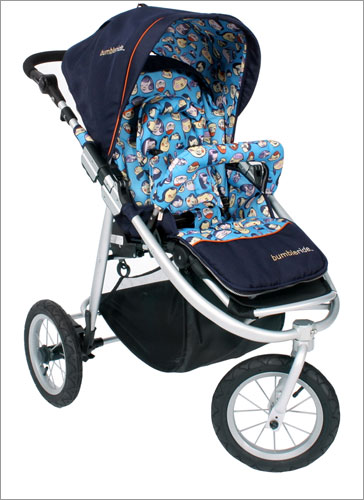 Nick Nolte, his girlfriend Clytie Lane, and baby girl Shanti will be strolling in style when they hit the streets in their new, limited edition Indie Stroller from Bumbleride, with fabric designed by artist Bwana. The couple recently purchased this stroller, especially for their daughter.
The comfortable and fully featured stroller is a real attention getter with its colorful and fun graphics of children's faces. Baby is sure not to get bored or feel lonely in this ride!
The Indie stroller weighs in at a mere 20 lbs and is extremely versatile — it has the ability to hit the trails and the front wheel can be locked in forward or rear facing modes for joggers. Unlocked, the wheel swivels a full 360 degrees making this a comfy mall ride too. Standard accessories include a pump, footmuff, and cup holder. The handlebar adjusts to accomodate taller and shorter parents and there is a generously sized basket below.