Update: Contest: Win a set of Laugh and Learn DVDs and a birthing ball!
Update: The winners are:
Ingrid, who said, "

I haven't taken a childbirth class this time around,and won't, but I did attend the free classes at my hospital with my firstpregnancy. I would definitely prefer to watch a DVD and with a DVD there is asmall chance my husband would participate as well!"

Lynda, who said, "

I am expecting baby#3, so have decided to skip the classes this time. However, I would definitelybenefit from watching these DVD's in the comfort of my own home as it has been 4years since my last child. I have never been sucessful at breastfeeding andreally want it to work out this time, so would be very excited to get thebreastfeeding DVD, and would much rather learn about that from a DVD than aclass."
---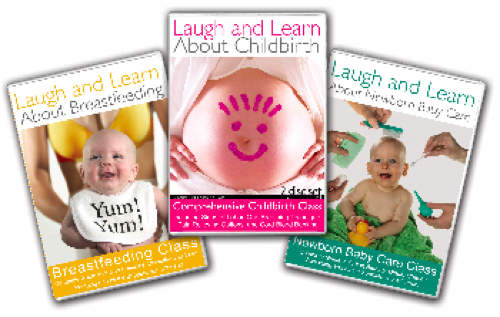 Expecting or know someone who is? LAUGH AND LEARN childcare DVDs, taught by award winning, Lamaze instructor and International Board Certified Lactation Consultant Sheri Bayles, are the essential guide for all parents. Sheri uses her 24 years of experience to bring you this comprehensive guide to childcare.
This best selling DVD set includes, LAUGH AND LEARN ABOUT CHILDBIRTH, ABOUT NEWBORN BABY CARE and ABOUT BREASTFEEDING and allow you to skip the expensive classes and learn at your own pace at home. Sheri uses her sense of humor to bring you entertaining yet informative information that covers every aspect from childbirth to childcare.
LAUGH AND LEARN is perfect for all first time parents and can also be used as a reference or refresher for the next time around. Relax and enjoy six, fun to watch, easy 45-minute sessions, all in the convenience of your own home. Laugh and Learn prepares new parents with the realities of childbirth/ newborn care and helps create that special bond between parents and baby. Laugh and Learn is an all inclusive guide to everything parents want to know. Sheri Bayles has worked with over 5,000 couples, including celebrities and has been featured in many articles.
Celebrities who are fans of Laugh And Learn include: Halle Berry, Nicole Richie, Christina Aguilera, Jessica Alba, Salma Hayek, Isla Fisher, Liv Tyler, Brooke Shields, Matthew McConaughey.
CBB Deal: Save 20% when you make a purchase at www.thebestchildbirthclass.com. No code needed.
Get ready to Laugh and Learn when you win a set of 3 Laugh and Learn DVDs(Laugh and Learn About Childbirth, Laugh and Learn About NewbornBaby Care, and Laugh and Learn About Breastfeeding) and a birthingball! Click Continue Reading for the details.
Enter to win one of 2 Laugh and Learn Sets (including the DVDs Laugh and Learn About Childbirth, Laugh and Learn About NewbornBaby Care, and Laugh and Learn About Breastfeeding, plus a birthingball, a $100 value). Email the following info to celebritybabyblogATgmail.com (be sureto replace AT with @).
Your full name, mailing address, and email address.
At what point during labor should you go to the hospital? (Hint: the answer is at www.thebestchildbirthclass.com.)
If you are pregnant, have you taken a childbirth, breastfeeding or childcare class? Would you rather watch a DVD or attend a class?
Make sure you put "Laugh and Learn" in the subject line in order for your entryto be counted.
Any entries that don't include all of the info will not be counted. The contest closes tomorrow at 7 am EST. (For terms & conditions, click here.)