Julia Louis-Dreyfus shares tips for being eco-friendly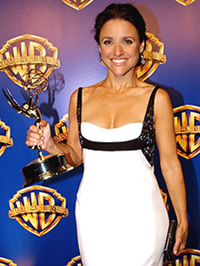 Like many celebrity moms before her, actress Julia Louis-Dreyfus credits her children for kick-starting her efforts to go green. The 47-year-old star of The New Adventures of Old Christine lives in a home powered by solar panels, drives a hybrid car and shares a variety of other tips for conserving energy in a recent article for USA Today. Becoming a mom to Henry, 15 and Charlie, 10 made preserving the environment take on new urgency, Julia said, adding,
Having children is an obvious life changer and certainly puts you on the track of thinking beyond yourself.
The kids are Julia's with husband Brad Hall.
Source: USA Today