Update: Jennifer Lopez currently filming reality show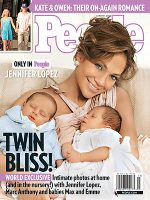 Update: Jennifer's publicist has made a clarifying statement, saying that although TLC's press release made it sound as though the show would include her personal life, it in fact does not.
The show that Jennifer Lopez is doing for TLC is a "docuseries" that follows the creation of a mother/child fragrance launch. It is not about her family and home life with her children.
Originally posted April 24th: Singer/actress Jennifer Lopez, 38, is in the process of filming her new reality show, due to air on TLC (The Learning Channel). The gist of the show? To give her fans a peek into her life as she tries to juggle the two sides to her life: her profession, including the launching of a new fragrance line, and the more personal side, as a mother of her new twin babies.
According to Jennifer, she will co-executive produce, co-create, and star in her new show and is excited on sharing this unique experience with the public.
I'm looking forward to sharing this exciting journey together.
TLC's President, Angela Shapiro-Mathes, had only praise for the newest member of the TLC family and calls Jennifer a "role model" for their audience.
Jennifer is unbelievably passionate about life and will be an incredible role model for our audience.
So far, no air date has been announced.
Jennifer is married to Marc Anthony, 39, and together they have twins Emme Maribel and Maximilian David, 8 weeks. Marc is also the father of Ariana, 14, Christian, 7, and Ryan, 4 ½, all from previous relationships.
Source: People
Thanks to CBB readers Kim and Colleen.