Sponsor: It's Metal Mania at Crib Rock® Couture & Decor!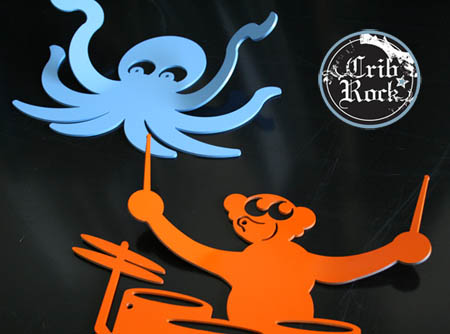 Is your little rocker's room lacking organization? Crib Rock® Couture & Decor, the celebrity-loved clothing brand, has the hip solution with Metal Mania their debuting line of modern wall art for kids!
Crib Rock's Metal Mania Wall Hooks™ lift jackets and school bags off the bedroom floor in rock star style featuring an array of designs: the monkey drummer, skull & crossbones, octopus, flying heart and even a spaceship alien that glows in the dark!
In the bathroom, Metal Mania Wall Hooks™ are perfect for holding towels and robes. The hooks can also double as a "spotlight display" for your daughter's favorite jewelry pieces, keeping them neatly organized and preventing tangling too.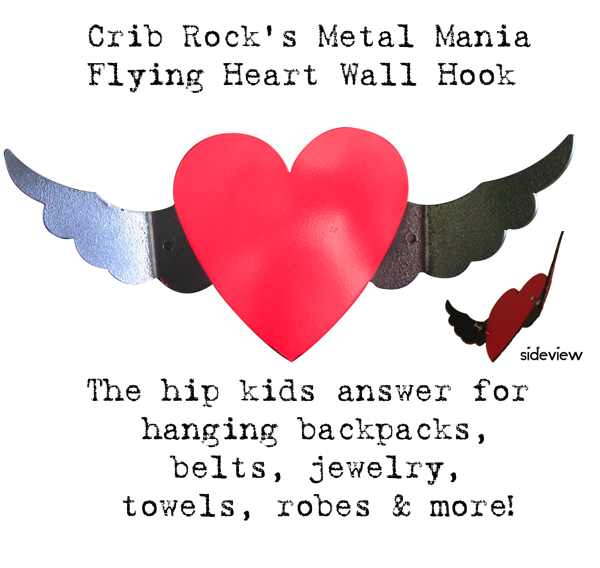 Metal Mania pieces look like decorative art, but on closer inspection you see that the sides actually stand off the wall to become the perfect nesting place for backpacks, jackets, and more – truly art with function. Showcase one piece alone or make a statement by grouping several pieces from the collection together. The wall hooks perfectly coordinate with Crib Rock's Metal Mania wall panels completing the modern look in any room of the house.
Each original Crib Rock® Metal Mania design is precision cut from solid steel. The pieces are sand-blasted, painted by hand and topped with lead-free clear coat for added longevity, safety and bling. Mount with nails. MADE IN THE USA.
Exclusively for readers of the CBB: You'll receive 20% off your first order by entering the code metal at checkout at cribrockcouture.com! Now that rocks!