Update: Contest: Win a Bebe au Lait gift set!
Update: The winners are:
Kelsa, who said, "If I win this gift set, I'll be using it to nurse my first born, a boy,in September. As I'm a newbie to nursing, having this ultra cool coverwill make it all that easier to stick with it as long as possible!"
Sara, who said, "This gift set will be for me, I have not used anything else as I'mcurrently expecting my first child but heard about these nursing coversfrom another friend."
Alyssa, who said, "This gift set would be for myself. I'm expecting my first in July and have never used another nursing cover."
Maria, who said, "Myfirst child had medical problems and was unable to latch and nurseproperly, so I exclusively pumped for her, which was exhausting, butworth it. I am looking forward to nursing "from the tap" this time andhave been concerned about the logistics of nursing in public – thissolves that!"
---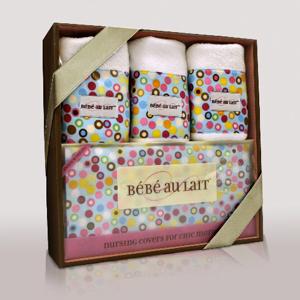 Win one of four Bebe au Lait Gift Sets valued at $50 each! Each gift set features one award-winning nursing cover in our best selling Hot Dots print and three soft, matching terrycloth burp cloths.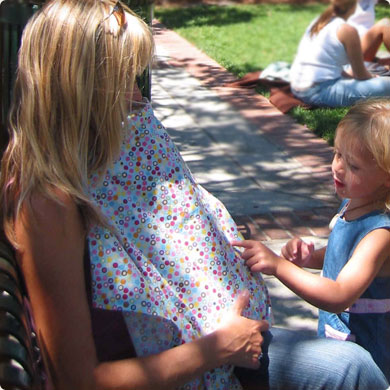 The patent-pending Bebe au Lait nursing covers are made from hand-selected fabrics with luxury prints, are easy to use, machine washable, and multi-purpose. Designed with Baby and Mom in mind they feature a rigid neckline allowing unobstructed eye contact during feeding, a small-item storage and clean-up pocket made from the softest terry cloth, and a quick, customizable fit. These covers can also be used as a sunshade over a front carrier or stroller and as a lightweight blanket for impromptu naps.
A favorite among celebrities, including Jessica Alba, Mira Sorvino (who owns the Mayfair print), Denise Richards, Carnie Wilson, and Chris Noth, they are indispensable and make the perfect baby shower gift.
CBB Deal: Save when you shop at shop.bebeaulait.com! (Expires )

Win a Bebe au Lait Gift Set! Click Continue Reading for the details.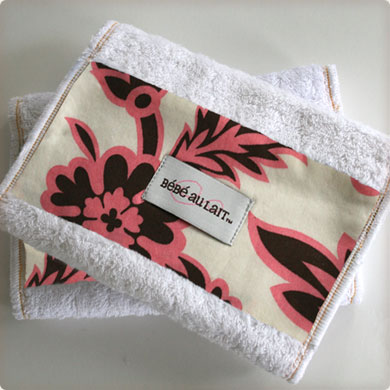 Enter to win one of four Bebe au Lait Hot Dots Gift Sets valued at $50 each. Email the following info to celebritybabyblogATgmail.com (be sure to replace AT with @).
Your full name, mailing address, and email address.
Which Bebe au Lait nursing cover is your favorite and how much does it cost? (Please note: the print being given away is Hot Dots.)
If you win, will this Gift Set be for you or someone else? If it's for you, what have you used as a nursing cover in the past? If it's for someone else, tell us about that special person.
Make sure you put "Bebe au Lait" in the subject line in order for your entryto be counted.
Any entries that don't include all of the info will not be counted. The contest closes Monday at 7 am EST. (For terms & conditions, click here.)