Update: Laila Ali and Curtis Conway expecting a little boy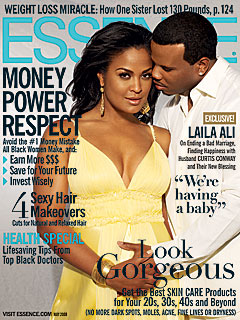 Update: Laila and Curtis are expecting a baby boy, Curtis shared with US Weekly. Showing them an ultrasound, he revealed that Laila is due the first week of September.
Originally posted March 26th: Champion boxer Laila Ali has announced to Essence that she and her husband, former football player Curtis Conway, 37, are expecting their first child together. The baby will join Curtis' three children from his previous marriage — 13-year-old twin sons Cameron and Kelton and 9-year-old daughter Leilani — and will be a grandchild for Muhammad Ali.
On the pregnancy, the 30-year-old American Gladiator host and DWtS Season 4 third place finisher shares,
I don't know yet if we are having a boy or a girl, but I'm excited that I have a life inside me that my husband and I created.

Curtis is very calm and has a quiet confidence, and he wanted what I wanted — to be married and have a family. I am 100 percent undeniably happy. I've never been able to say that before.
Thanks to CBB readers Karin, Beverley, Mary and Vanessa.