Tina Fey on pregnancy donut addiction, preschool searching, and advanced maternal age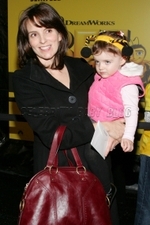 For many moms-to-be, a craving for junk food — whether it be sweet or salty — is just part of the process. However, for 30 Rock's Tina Fey, it wasn't anything she was willing to admit to her ob/gyn during her pregnancy with daughter Alice Zenobia, now 2 ½. Tina, 37, shared,
I had this thing for Entenmann's chocolate donuts. Somewhere during my pregnancy I gained something like ninepounds in two weeks and my doctor was like, 'You know what it might be?Are you drinking a lot of juice?' I was like, 'Yeah. That must be it.' I was eating like a box a day of Entenmann's donuts!
Next up for Tina and husband Jeff Richmond is finding a preschool for Alice, who starts next fall. To make the best impression, Tina asks only one thing of Alice, she revealed.
My daughter starts preschool next year, so I just went through theprocess of taking her to her preschool interviews. And you're justhoping, 'Please don't poop yourself during this time.'
Click below to read what aspects of Tina's pregnancy experience made it into her new film, Baby Mama.
In her latest film, Tina plays a woman who cannot conceive and enlists the help of fertility doctors and a surrogate. For the movie, Tina worked her own motherhood experiences into her character.
Some of my pregnancy experiencesmade it into the film, like the idea of women over 35 being treatedlike they're ancient. When you go to fertility places, you hear theterm "advanced maternal age" and that was used in the movie. Also, theparanoia and freak-out that you get after reading all those pregnancybooks.

I got a baby under the wire. I was 35 when I delivered andhopefully it all went great. It wasn't hard to imagine that it couldhave been all different.