Jennifer Garner looks forward to a 'happy summer'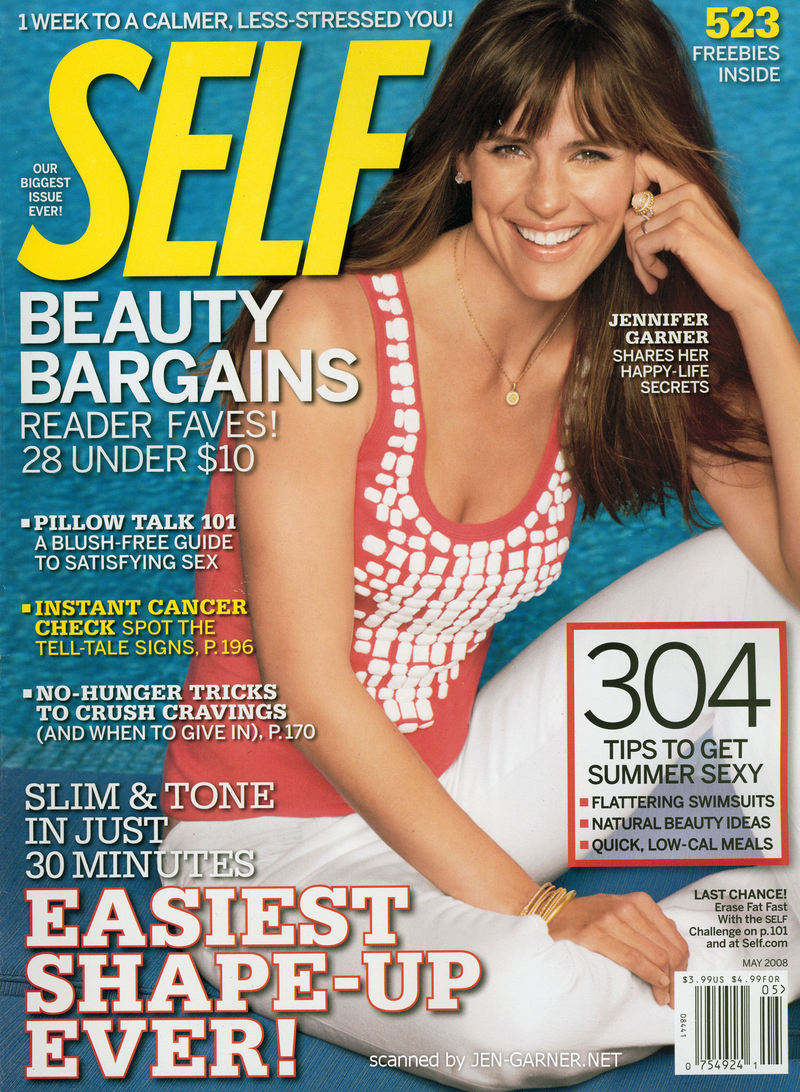 Actress Jennifer Garner, 36, sat down for an interview in the new issue of Self to talk about her love for summer, sunscreen, her daughter Violet Anne, 2, with husband Ben Affleck, 35, and much more.
Jennifer recently was contacted by Neutrogena for help in raising awareness on the benefits of sunscreen and the importance of sun protection. Although Jennifer describes her childhood on the Chesapeake Bay with her sisters, and their time spent "roasting like peanuts" in the hot sun; now, as a mother, she has a new take on the sun and says "any color at all, it's an accident!"
Jennifer's newest project, a romantic comedy called The Ghosts of Girlfriends Past, with Matthew McConaughey, comes out next year. The family is currently living on the East Coast.
Click below for the interview and photo highlights!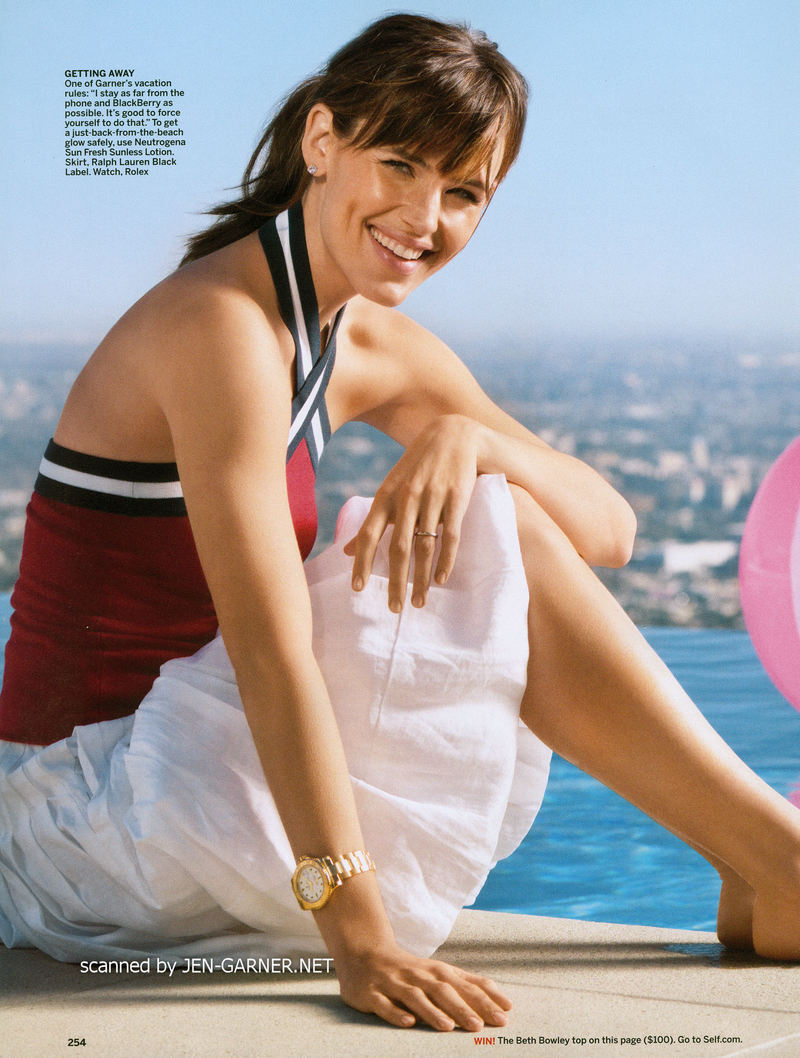 (Jen is wearing a Beth Bowley top ($100).)
On summer being her favorite season:
What's not to love about summer? I love all the fruit that's available. I love the farmers' market. I love that everybody relaxes a bit more. You can feel it in their face and demeanor. People leave work a little earlier.
On being more motivated in the summer to work out:
Of course! You're in a bikini! In the winter, you feel like, Who cares? I'm in my husband's sweater. It doesn't matter. But in May, everybody kicks it into gear.
On preparing her body:
I try to decrease the overall size of my butt!
On everyone thinking she is always pregnant:
Yes, everyone continues to think that I'm two months pregnant. But at this point, it's just laziness! I think your body shifts. If I gained weight before, it didn't go to my stomach. Now it'll go to my stomach and lower half. Where I used to be flat, now — when I wear a T-shirt — you see a little bit of normal person.
On exercising:
I am exercising again. I started feeling like I didn't have time or energy for it, but now I realize I didn't have energy because I wasn't exercising. So I work out with my trainer or do an hour of Pilates at 6 or 7 a.m. I'm done by the time my household is awake. I don't do it every day, and if I need to cancel, I cancel.
On not feeling like she has to work out constantly:
No! It's not like I"m trying to get into Elektra shape. I'm just trying to feel good. We also have a pool, and I've been known to swim laps. But mostly I splash around and throw a kid. There are always nephews and neighbors over.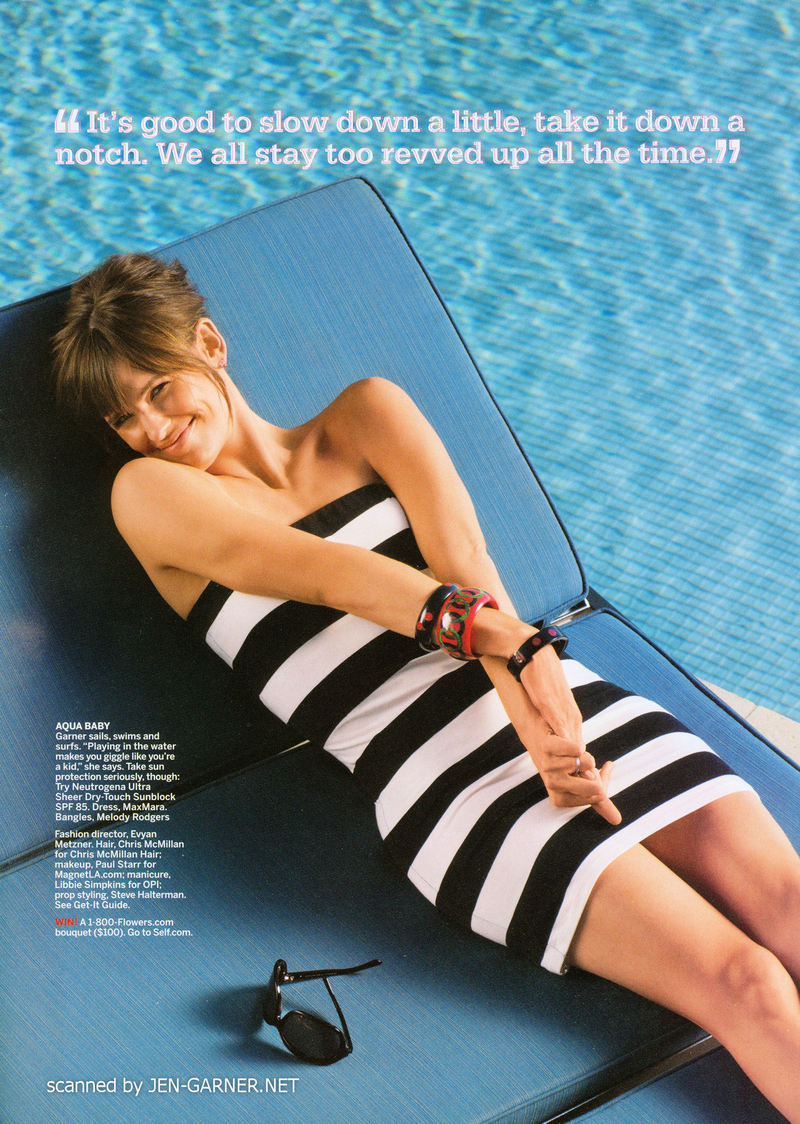 (Jen is wearing a dress from MaxMara and bangles from Melody Rodgers.)

On protecting herself from the sun:
Every day, I use a moisturizer with SPF so I don't have to worry about it. But if I'm going to be in the sun, it's a whole different ball of wax. Then I get serious and put on, like, SPF 1 million! I mean, why not? You might as well do everything you can to protect yourself. It's no joke.
On being the sunscreen carrier in the Garner-Affleck family:
Yes, I am, like it or not. As the woman in the family, whether you're the daughter, sister, wife or mother, you're kind of in charge of having sunscreen in your bag and making sure your family is protected. And I buy everybody big, floppy sun hats.
On Ben wearing sunscreen:
No, my husband gets burned. I do my best, but I can't say I do good work. When I had Violet, I went into a store called Sun Precautions and bought every baby product they had, I was so paranoid. She's never had one smidgen of a suntan in her whole life.
On baby skin being amazing:
Gimme a break! If we'd only known to take care of it, we'd all look like Nicole Kidman!
On noticing a wrinkle:
What do you mean? That hasn't happened yet! No, every now and then I have a moment when I look in the mirror and go 'Yep, I'm not 22'. Like after a night when I haven't slept, for example. You don't think it's going to happen, and then you hit 30! I'm not freaked out by it, but, you know, if a lotion says age-reverse, I'm more likely to use it now than ever before. Might as well reverse.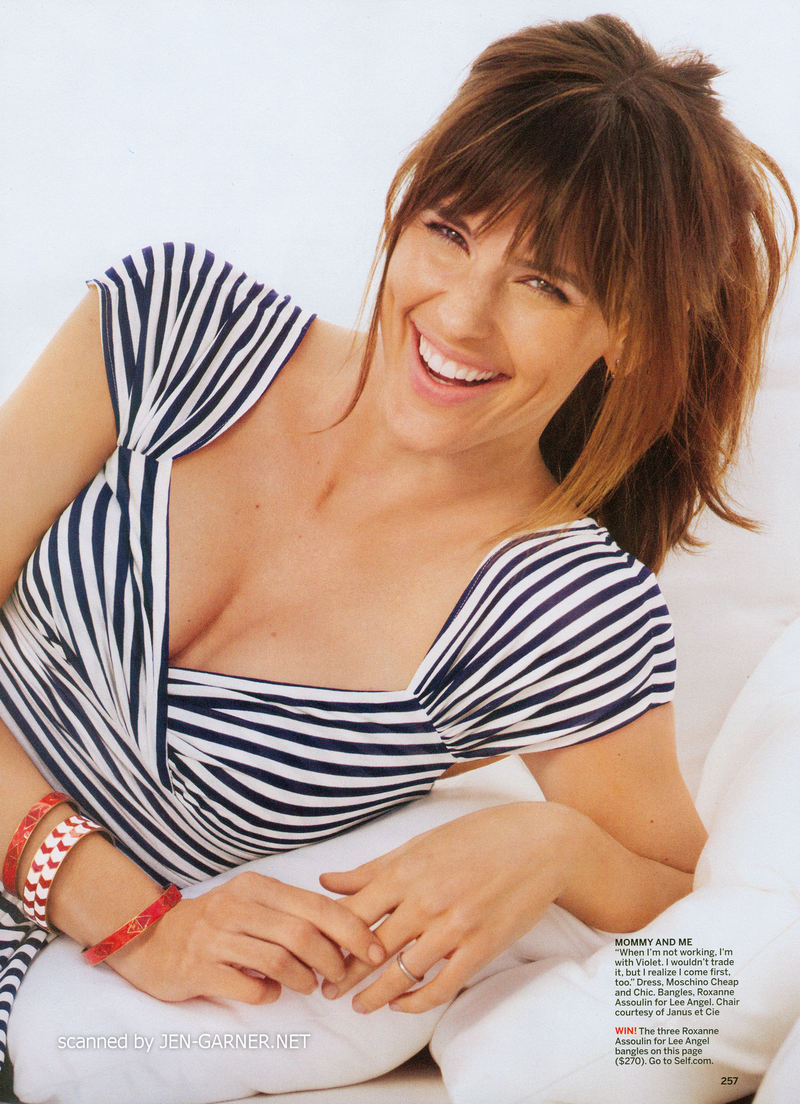 (Jen has on a dress from Moschino Cheap and Chic and bangles from Roxanne Assoulin for Lee Angel ($270).)
On growing their own food:
Yes! We planted a garden last spring. Half the stuff dies, half the stuff lives, but I'm happy with it. We had huge eggplants! And there's nothing like fresh tomatoes. And the herbs? Heaven! I grow all different kinds of basil and thyme. I always have rosemary and Italian parsley.
On her favorite summer meal for the family:
Anything on the grill. I wish I were better at grilling. It sounds so romantic to grill, and I'll go through all the trouble to butterfly a whole chicken and grill it. Then it won't be cooked all the way through, and I'll order pizza because I'm just so mad. It's, like, 'I'm done; I have to eat!' But that's my goal for this summer: to really get good at grilling, especially vegetables.
On how her vacation style has changed since becoming a mom:
Totally. It's all about experiencing fun. A lot of it is having fun through this other person. I just gave Violet's babysitter a week off because I wanted to stay home with her and not be available to anyone else, and it was great. She and I loved it. We got to cook and make banana bread together.

When I am not working, I'm with Violet. I would
n't trade it, but I realize I come first too.

But Ben and I try hard not to talk about Violet in the press. And we try not to give the paparazzi any power. They really invade your kid's space. I say, 'Please don't flash your cameras in her face,' and they don't care. They have lenses from here to there, they could take her picture from 100 yards, but they are still as close as I am to you.

My kid does not belong in magazines! She's 2! People recognize her if she's in another state with someone who's not me. They say 'Oh, that's Violet Affleck!' That's not okay with me.
On regretting her fame:
No, I don't feel regret, because I love my life. I love my job. I didn't do this on purpose — I wasn't trying to be famous when I was trying to be an actor, you know. But I just got to be on Broadway [as Roxane in Cyrano de Bergerac opposite Kevin Kline]. How can I regret a choice that led me to that? And that also led me to a great husband and a happy family and affluence? Would I do it again knowing that this would happen [she points to paparazzi swarming around the cafe where the interview is taking place]? I don't know, because I can't imagine having met Ben without it.

If I had thought that someday I'd have a child and how much her life would be compromised, that would have been really complicated, that decision.

You can't decide not to live. You can't work all your life to be an actor, and then when the lead role comes, say, 'Oh, wait!'
On her favorite summer vacation spot:
I love Hawaii. We don't go somewhere every summer, but last year we had a long vacation in Kauai. Your whole energy just downshifts to a much more mellow place there. I stay as far from the phone and Blackberry as possible. It's good to force yourself to do that.

Whenever your family takes time out to be all together, it kind of has a golden glow when you look back on it. On those sailing vacations when I was a kid, it was hot and there was no wind and we were just sitting in the middle of the bay. But even those things — in retrospect, you think, Oh, we were all together. How beautiful.
(Jen's blouse is from Tory Burch ($175) and the jeans are J Brand ($158).)
Source: Self; May issue. Scans courtesy Jen-Garner.net.