Even more happy CBB winners
You know how we're always giving away stuff? Do you ever wonder if we REALLY give the stuff away? Yes, we REALLY do. Here are a couple of CBB Readers who've won some awesome giveaway prizes from us.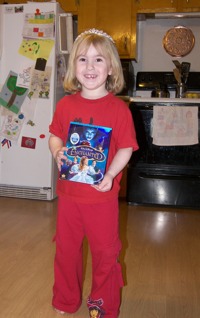 CBB Reader Randi won a copy of Enchanted on DVD and sent us this photo of her princess. She wrote:
We're gettinginto our pajamas now and are going to sit down with our popcorn to watch it. Asyou can see, she just had to put her princess tiara on for the photo – she'sdefinitely a little princess!!
CBB Reader Karin won our PosePrints custom notecard contest. She wrote:
I am a devoted fan of your website and check it two to three times a day. I love it! I entered a contest for PosePrints and was thrilled when my name was picked. My note cards arrived today and they are amazing! Thank you for all your hard work and the great contests!
CBB Reader Grenda won a personalized baby blanket from Baby Fabulous for the little girl from China that she is adopting. She blogged about it and said: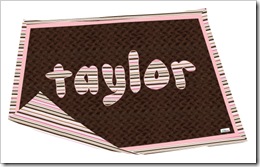 This is such a special prize. It is acustom made, personalized blanket and it is huge. It is 36" by 48".It is valued at $178!! That's some fancy blanket. I chose cocoa plushwith pink ribbon and pink and brown stripes. It will match her room!The best part is that it is personalized and because she has arelatively short name, both her first and middle name fit. So it willlook just like this, but will say Sadie Hieu. Cute, huh? It should behere next week.
---
Check out previous winners and their goodies here, here, and here.
Have you won a CBB Giveaway? If so, take a photo of yourself with the prize (or your kids wearing or playing with it) and we'll post it on CBB.