David Hewlett thinks he won the child lottery
Stargate Atlantis' David Hewlett celebrated his 40th birthday on April 18th and while he racked up on gifts, son Sebastian 'Baz' Flynn, 6 months, received his fair share of presents also.
Baz splashed out on some serious wheels for himself, a combo jogging stroller/bicycle trailer from which he can be in charge of navigation and snacks. I can't wait to hit the road with the "Bazmobile" in tow.
David considers Baz such a good baby that he and fiancée Jane Loughman may even add another child to the bunch.
Baz is officially teething and he's being such a trooper about it all. I can't imagine how miserable it would be to have little toothlets poking out all over the place. He just keeps up a steady stream of drool and giggles. I think we may have won the child lottery … better test our luck with another. It would be nice to get the set.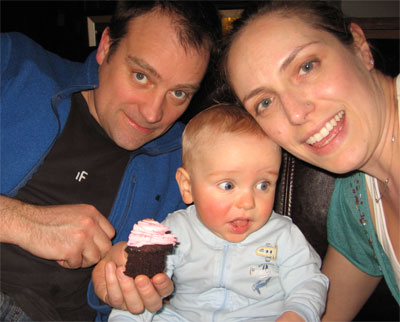 Source: David's Official Website
Thanks to CBB reader Arlessiar.