Sponsor: Get ready to welcome Baby Mama into your life on Friday, April 25!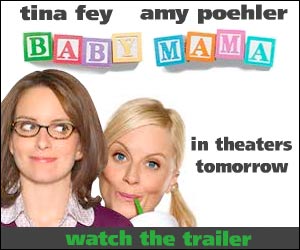 Tina Fey and Amy Poehler lead an all-star comedy cast in Baby Mama, a film that tells the story of two women, one apartment and the nine months that will change their lives. Tina Fey plays Kate, a single businesswoman who — after learning she has only a million-to-one chance of getting pregnant — has hired working girl Angie (Amy Poehler) to be her surrogate.
An unstoppable force meets an immovable object as structured Kate tries to turn vibrant Angie into the perfect expectant mom. In a comic battle of wills, the two struggle their way through preparation for the baby's arrival. And in the middle of this tug-of-war, they'll discover two kinds of family: the one you're born to and the one you make.
Watch hilarious film clips, make your own baby and more at www.babymamamovie.net!