Ashlee Simpson continues to dodge pregnancy questions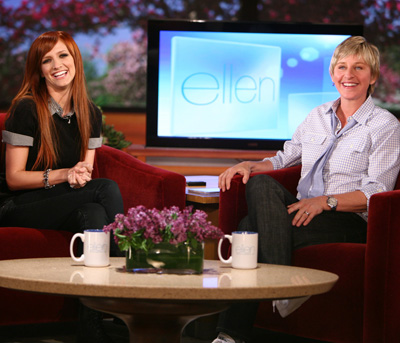 Singer Ashlee Simpson, 23, continues to remain tight-lipped about whether the persistent rumor that she is expecting her first child with rocker Pete Wentz, 28, is true. Ashlee taped an appearance for The Ellen DeGeneres Show (to air today), and continued to refuse to confirm or deny whether she is expecting.
Ellen asked Ashlee straight-out if she was expecting and Ashlee's answer was humorous, referring to cheeseburgers.
Well, that has been going on for quite a while. That is definitely something that I choose personally not to discuss except for the fact that maybe…. Do I look like I had 10 cheeseburgers or something, because I don't think I do.
Ellen then pointed at a picture of Jennifer Lopez and asked if she was going to keep the pregnancy a secret that long (Jennifer didn't confirm her pregnancy until she was six months along).
No, I'm not. I swear. I promise you that. I give you my pinky on that.
Ellen had one more try at attempting to get the news out of Ashlee, adding at the end of the segment, "Is it a boy or a girl?" with Ashlee replying, "You're funny."
Source: US Magazine and People
Photo by Michael Rozman for Warner Bros.