Update: Contest: Dirty Little Secrets from Otherwise Perfect Moms
Update: The winners are:
Lauren, who said, "I pretend to be breastfeeding sometimes so I can get out of doingsomething. Another one is blaming the kids for the reason the hosue isa mess, when really, I did contribute ;)"
Toni, who said, "When my oldest was tiny and colicky, the only thing that would make her smile was if I belched in her face. So I did."
Jill, who said, "My dirty little secret is that I think of the Doodlebops as mypersonal, on-call, absolutely free babysitters. The DVR is the bestinvention EVER!!!!"
CBB Deal: Use coupon code Sosie at chroniclebooks.com for 30% off and free shipping on your purchase (expires May 21, 2008).
---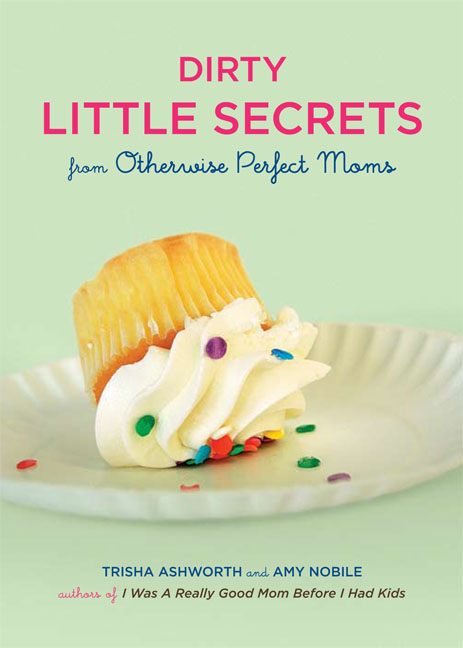 Dirty Little Secret: "I had to use my toddler's potty chair on the side of the road when I was stuck in traffic. I just couldn't hold it."
Trisha Ashworth and Amy Nobile conducted interviews with hundreds of mothers while researching their best-selling book I Was a Really Good Mom Before I Had Kids. It didn't take long before these moms began to reveal their Dirty Little Secrets — surprising, thought-provoking, guilty confessions they hadn't told anyone else. Cringe-worthy moments ("I bit my daughter's finger trying to steal a bite of her cookie.") meet real insights ("I love my kids but I didn't always. It took time to fall in love with them."). These are the private thoughts that every mom has—and every mom can relate to.
Enter to win one of 3 copies of Dirty Little Secrets from Otherwise Perfect Moms! Email the following info to celebritybabyblogATgmail.com (be sureto replace AT with @).
Your full name, mailing address, and email address.
As a mom, what is your own "dirty little secret?"
ALSO post a comment below with your secret- do not post your address!
Make sure you put "Dirty Little Secrets" in the subject line in order for your entryto be counted.
Any entries that don't include all of the info will not be counted. The contest closes tomorrow at 7 am EST. (For terms & conditions, click here.)