A Day in the Life of CBB: What Danielle does all day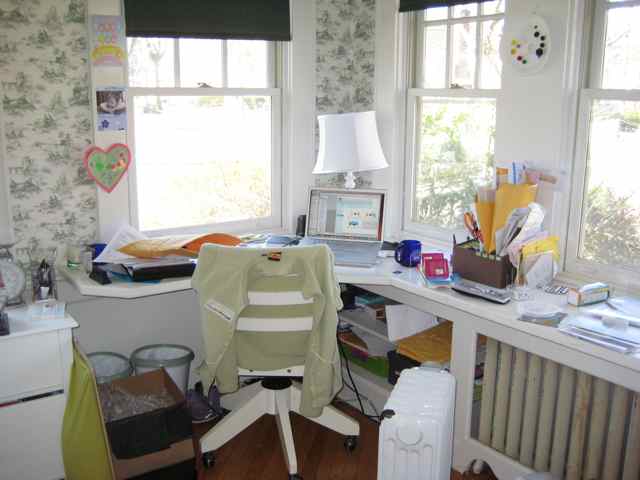 One of the emails we received from a longtime CBB reader at our new questionsATcelebrity-babies.com email box asked if we could share what it's like behind the scenes at CBB. I asked a few of our staff to share what a typical day is like, and I'll share mine first.
A couple of weeks ago, a not-so-well meaning CBB reader asked what Idid for the site because I posted so rarely. Well, I'm actually prettybusy.
Click Continue Reading to see how I spend my day as publisher of the Celebrity Baby Blog.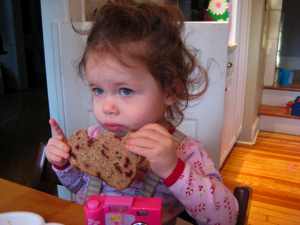 Our current childcare arrangement has Josh taking care of Anya the majority of the work-day, but I watch her until 10 each morning so he can work on his blog. Usually Josh wakes up with her and feeds her breakfast (her favorite is "dada" toast with almond butter). Then I'll hang out with her and on the days she has nursery school, I'll drive her. On the days she doesn't have school, we'll hang out at home, take a walk around the block, have breakfast at the diner (girlfriend can eat six silver dollar pancakes), or have an early playdate. On Tuesdays, our babysitter Clara comes from 9-5 and on Wednesday afternoons, our babysitter Margaux comes for a few hours, to give Josh time to work on his blog. My job is totally full-time though I get to sneak half hours here and there with Anya.
So at about 10 am, my "work day" begins. I start out going through email. I get several hundred a day, though not all of that is directed at me. A lot of it is email sent to the Tips box that I just delete if there's nothing for me to act on (the Tips box is also read by Angela, Sarah and our other news writers). A lot of stuff from mailing lists and feeds from other blogs I read. There will be a number of items to act on each day- bills to be paid, questions about comments from the staff, requests for interviews, etc. I sift through email pretty much all day, off and on. We also get a ton of requests for product reviews and I forward those and any product-related queries to Bronwyn.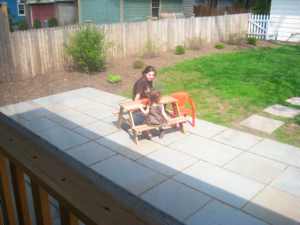 One of the benefits of having my own business is that I make my own hours, but really that means I trade time with Josh because there are only so many hours in the day. So sometimes I'll take a few hours off for a playdate. For example, school's out this week so this morning Anya and I had a playdate with my friend Jennifer, who just started a blog about significant weight loss, and her daughters, Sarah and Zoe, yesterday morning Anya and I took an extremely slow walk with her doll pram and went for coffee and my favorite "morning glory" muffins at a local kid-friendly cafe, and a couple of weeks ago, I was able to attend Anya's school's Passover seder.
Another benefit of having my own business and working from home is that I can work outside now that the weather is pleasant. Our house has a small screened-in porch and wireless internet access that I take full advantage of when the weather is pleasant- it even has a fan when it's hot with no breeze. From my chair, I can see our "pet" wild bunny that likes to run across our yard or watch Anya play with Josh or one of our babysitters.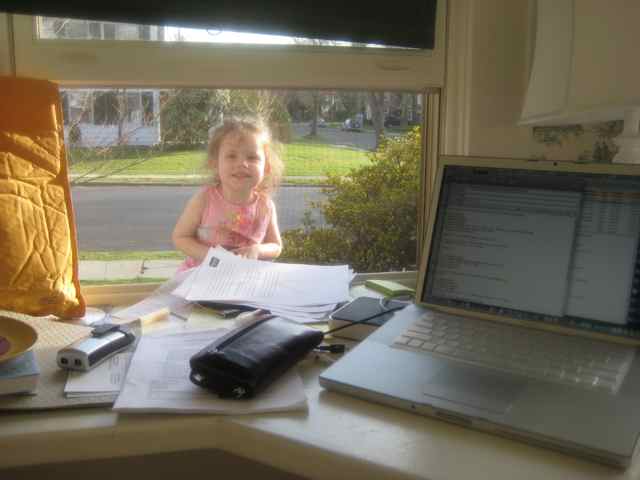 I do love my office though. It has five windows on two walls so it's really bright (although pretty cold because the heat doesn't work too well) and since my house is on the corner, I get to see who's coming and going. Once Josh and Anya surprised me by popping their heads by my window.
I am not especially fond of talking on the phone (perhaps it has to do with the fact that I spent a lot of time answering the phone for other people) but I do have to take a few phone calls here and there. I hate cold calls so all of my calls go through a service called Grand Central which essentially screens my calls, though that's not its purpose (it forwards your calls to all of your phones- home, office, cel, etc.). Often, when the phone rings unexpectedly, it's a PR company wanting to tell me about an exciting new product or event, a photo agency looking for payment, but most of my calls are scheduled.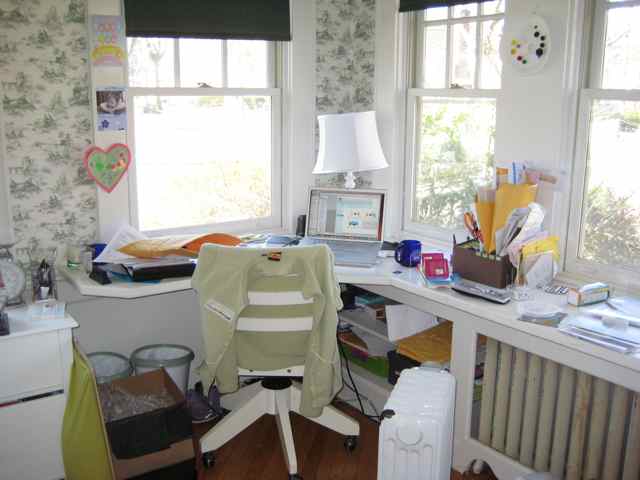 For example, I'll have to talk to my lawyer about intellectual property issues or contracts (waddup Peter and Michelle!), my advertising company Federated Media about a potential ad campaign that requires my input (yo Pamela!), or my accountant about, what else, taxes (big ups to George!). I talk to content partners like Julia Beck of Forty Weeks, Grace Lee of Giggle, and Liz Gumbinner of Cool Mom Picks, and negotiate advertising with Mary Admasian of Zutano and hash out deals with Gina Maher, my independent ad sales rep. A few times a month I will talk to reporters who always seem to want to know why Americans are obsessed with celebrity babies.
Quite a bit of communication is also done via email or instant messager (we at CBB favor AIM). I'll check in with Sarah and Bronwyn to see what's going on for the day and coming up for the week. Sarah handles the majority of the comment moderation so she'll often ask me if something is ok to put through. (We get around 200-300 comments a day so it's a big job). We'll also talk about whether we renegotiate to get more images from the photo agencies we've contracted with. I'll talk to writers about special features they're working on (Missy recently completed a great series about autism) or special guides we're putting together (Bronwyn just finished up our CBB Green Guide and related giveaways in celebration of Earth Day and is working on our Mother's Day Guide). I'll talk to Jennifer, our celebrity maternity/baby photographer/interviewer about the pieces she's working on (check out her latest feature on US Soccer Olympic Team Captain Christie Rampone). I'll coordinate with Ciaran and Tracy, my Fashion/Gear senior contributor and reporter, about what events in LA they are headed to next.
I spend a decent amount of time setting up contests- suggesting them tocertain companies and fielding requests from others, getting the info,posting the writeup, selecting winners, contacting them and letting thesponsor know where to send the prizes. There's a lot of back and forthcommunication on those so they are quite laborious at times.
Oh yeah, and I also write the occasional post and review.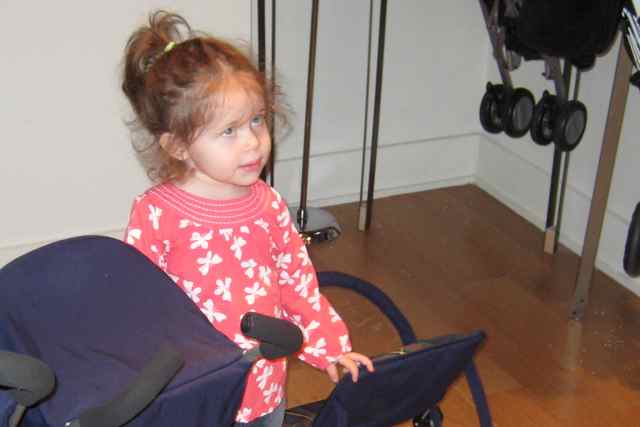 As you can see, both logistically and creatively, there are many decisions to be made on a daily basis. I should add that I do
n't do every single one of these things every day.
I set aside one day a week to go into Manhattan for meetings. The last two trips into the city included at least two appointments per day with companies who want to show me their new product (most recently, Baby Bjorn who has a new version of their ubiquitous baby carrier called Synergy that merges the best features of the Air and the Active versions, and Medela who has a great lightweight hands-free breast pump called Freestyle that I'm really excited about), business associates who are in town (most recently, Geneva Wasserman of Clene), industry events (most recently, "Mimosas and Cookies" at the Maclaren Showroom in Soho), and reporters wanting to interview me. Last week, I filmed some stuff for the next VH1 Fabulous Life show about celebrity pregnancies and babies. Tomorrow I am having lunch with the American distributor for Mutsy and Natural Mat, among other brands.
I also attend tradeshows from time to time. In New York, I've attended ENK Children's Club (all baby and kids' apparel and accessories), Bubble New York (smaller up and coming baby and kid items), the New York Gift Show (any giftable item), Toy Fair, etc. In Las Vegas, I've attended the ABC Kids Expo (the most insanely collection of baby gear you will ever see plus a sort of weird URL, and Mom2B (pictured to the left are Julie Kenney, of Jewels and Pinstripes, and CBB's Bronwyn at the only maternity tradeshow, behind are the booths for C-Panty, undergarments that help heal c-sections, and Meritorious Baby, merit badges for kids).
My work day officially ends at 6 pm. I relieve Josh so he can rest or work on his blog until about 7 when he cooks or we bring food in or go out to eat. With the weather being so lovely, we've been having late playdates at my friend Lisa's, with her 2-year old twins and her next door neighbors. After dinner together, we try to get Anya in bed by 8:30. We take turns putting her to sleep. Unfortunately, we've fallen into the trap of having to lie down with her in bed until she falls asleep and more often than not, we'll fall asleep with her. When it's my turn and that happens, I am really done for the night. When it's Josh's turn or I don't fall asleep, I will either get back on the computer or give up for the night and climb into bed. However, just because I'm in bed doesn't mean the work stops. Despite my husband's protests, I check my Blackberry for work-related messages or to reply to the personal emails I didn't have a chance to read or respond to. And in the morning, before I climb out of bed, I check the ole Crackberry. And so my day again.