CBB Exclusive: U.S. Women's Soccer Team Captain Christie Rampone is running for Olympic Gold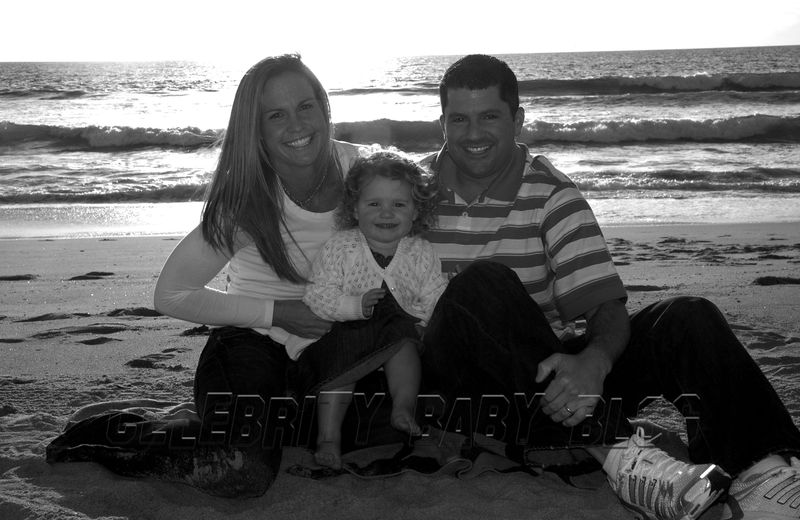 Christie Rampone is not your typical soccer mom. As the newly-named Captain of the U.S. Women's Soccer Team, Christie is preparing to lead her team to capture the Gold in the 2008 Summer Olympics in Beijing, China. And in true multi-tasking mom style, Christie often travels the globe with her beautiful 2 ½ year-old daughter, Rylie, for her team's training. CBB caught up with Christie, 32, in between practices for an exclusive interview and photo shoot.
Photography: Gabbeli Photography
Hair/Makeup: Douglas Martucci
Click below for the photos and interview!

I grew up in Point Pleasant, NJ. It was really nice to grow up in NJ. We lived by the beach, and so it was a lot of fun for kids. There was a lot of freedom.
As a little girl, were you into sports?
Definitely. My dad was a big sports guy and I wanted to be just like him. As long as we were outside playing with my dad, we had fun.
How did that playing sports as a little girl turn into you being the Captain of the U.S. Women's Soccer Team?
It was a long road! Up until the age of 11, I played non-competitive recreational soccer, and then from the ages of 11-15, I started playing competitively with my team. At first, it was just games within our state, but we soon began to travel out of state.
I bet your parents must have been very proud of you.
Yes, they've always been extremely supportive of me. They knew I loved to play all different types of sports. I actually grew up playing basketball, and I went to camp for it. I got a scholarship to play basketball in college, but it allowed me to play soccer too. In my senior year at Monmouth University, I was invited to play for the national team. That was a huge honor.
What does it feel like when you're playing soccer?
I love the way I feel. And now, I love the game even more, like I did when I was a kid.
Why is that?
I think because I have my husband, Chris, and my daughter, Rylie, in the stands. It is just so much more meaningful to me.
Rylie is quite the world traveler. Where has she been?
Rylie has been to China three times, and she's also been to Korea, Japan, Portugal. This year, she's going to Mexico and Sweden.
She must have the coolest passport of any two year-old out there.
It's wonderful to travel with her. She gets to experience everything I do. In China, Rylie was like a celebrity!!! People there are not used to seeing a little blonde-haired, blue eyed girl with tons of curls. They were in awe of her. She even learned how to say "hello" in Chinese, so she was greeting everyone!
You have one of the most unusual careers of any working mom. How do you find your balance?
I knew that as soon as the 2004 Olympics ended that I wanted to have a child. I also knew that Chris and I would have to really work together. When he has to travel for business, that's when I'll take Rylie on the road with me.

She might not remember all the cool things she's seen and done, but I know that I will. And having her with me is the only way for me to be the mom I want to be and also be the best I can be for my team. Rylie knows I have my "soccer time" and she always has water ready for me to drink when I see her!
You must have a rigorous schedule.
I really do. We moved out to California since most of my training is done here. I travel a lot, and sometimes I'm home only 5 days out of the month.
What position do you play?
I've always been the Forward, so I was a goal scorer. Since I came onto the national team, I've been a Defender, which I love! It's so much fun frustrating the Forwards! I do absolutely everything in my power to prevent goals from being scored. I think it's good to play different positions on a team, because it makes you a well-rounded player.
Tell me how you became the Captain of the US Women's Soccer Team.
The former Captain is expecting, so she's taking the year off. On the way to China, they asked me if I wanted to be the Captain. It is a huge honor to take on that roll. I believe that all that I've been through, coming from a small school, being on both big and small teams, having suffered a knee injury, and being a mom where the girls feel comfortable talking to me, all help me to be a good Captain.

I'm honestly looking forward to Olympic gold this year. We just got back from The World Cup in Beijing, and we didn't fare as well as how we wanted to. It just fuels the fire for us to come back stronger and win at the Olympics.
As Captain, what are some of your responsibilities?
I have to feel the tempo of the team, and communicate with both the players and the coaching staff. I have to make sure everyone is treated fairly from the Federation as well as other players.
It's amazing how women's soccer has become so popular in the past few years.
Soccer has always been a man's sport. I want to make sure that we're treated equally. I have to take care of the players and make sure that everyone is respected.
Who are some of the Olympic teams you're keeping your eye on?
There's a few of them. Brazil, Germany and China are three of the top competitors. Brazil is very quick, and very crafty on the ball. Germany is well-organized defensively. It is always a battle to play with them, but a good one. And China is very technical. They have a new coach, so we don't know what their style is going to be like.

I'm just excited to experience the Olympics all over again! There are so many faces and personalities on our team. We got the Silver medal in 2000, and we brought home the Gold in 2004. I'm looking forward to getting the Gold again this year.
Does Rylie show any interest in soccer?
Yes, she does! She has her own uniform with soccer balls on it. It's so cute! And she's definitely starting to show an athletic side. She's not afraid of anything; if she's running and falls down, she gets right back up and keeps running. When she falls down, her favorite thing to say is, "Safe!", to let me know that she's all right.

She likes to shoot hoops and kick the soccer ball. She's got some speed to her; now I have to run if she takes off on me!
What are you looking forward to?
Right now, I am having the time of my life! My team and I are about to head off to the Olympics, and my husband and my daughter will be right there, cheering me on. I'm looking forward to bringing home the Gold not only for my country, but with my family right there to see it. It's going to be amazing.