Update: Contest: Win a diaper cake from ABCakes.com!
Update: The winners, and the recipients of the diaper cakes, are:
Danielle, who said, "If I were to win, I would give it to my husband's best friend andhis wife. They are such a fun couple and the only pair without achild, and they were trying for a while. Finally on my wedding day, shetold me that she was pregnant. That just made my wedding day!!!!!!!She's having a boy in June🙂
Holly, who said, "I love the neutral 2 and 3 tiered cakes. They are so adorable andversatile especially if you have a surprise delivery or get a surpriseat the delivery! Plus they are great if you have a baby of each gender. Imight use it for the center piece at my own baby shower or might use itfor the center piece at a friends shower. Just depends on which one Iwould win."
CBB Deal: Use CELEB10 at abcakes.com to save 10% on your order until May 31, 2008.
---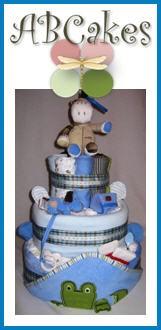 ABCakes are not your typical diaper cakes. They're made exclusively from Carter's and Pampers products – providing you with only the best for your new little one. We even offer an eco-friendly option with Seventh Generation diapers to give a little Green!
Speaking of Green, there is a price point for every budget – from our adorable Cupcakes ($30) to our stunning 3-Tier Diaper Cakes ($170), there is something for everyone's gifting needs. And we love to share – so 1% of all purchases are donated to the March of Dimes to help save babies from premature birth.
Our shipping is always $5, and our superior quality is un-matched. These "cakes" aren't just diapers in plain sight, surrounded by ribbon. Each diaper layer is frosted with Snoozysnug Blankies and Who's Inside Hoody Towels, and accessorized with Splashyclean washcloths, Wiggleproof Socks, Roomy-Comfy Pants and more!
Angela Kinsey from The Office and Danielle Grilli (wife of Detroit Tiger Jason Grilli) are proud recipients of our Diaper Cakes and Danielle even mentioned how "gorgeous, yet practical" they are. She even displayed hers in Jayse's nursery and didn't want to take it apart! And that's ok, because we use all 6-month clothing for babies to grow into – so why not display it for a while?
Give the gift that everyone at the baby shower and all new parents will talk about for years to come!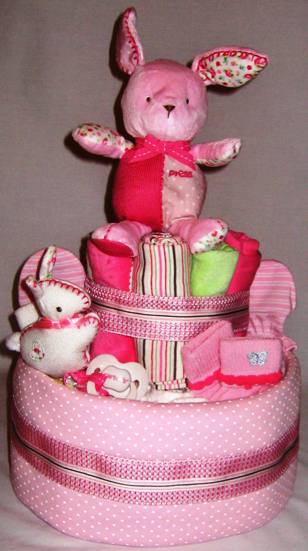 Enter to win a 3 Tier-Diaper Cake or 2-Tier Diaper Cake (a $170 and $130 value). Email the following info to celebritybabyblogATgmail.com (be sure to replace AT with @).
Your full name, mailing address, and email address.
Which ABCakes item on our site is your favorite, and why?
How much do you typically spend on a baby shower or new baby gift?
If you win, who will you give the ABCakes diaper cake to?
Make sure you put "

ABCakes

" in the subject line in order for your entryto be counted.
Any entries that don't include all of the info will not be counted. The contest closes tomorrow at 7 am EST. (For terms & conditions, click here.)