Update: Contest: Win PlanToys' Dancing Alligator and Balancing Cactus!
Update: The winners and their kids favorite toys are:
Cheryl who said, "Right now Asher's fav toy is

Bright Starts Tropical Fun Around We Go Activity Station… heLOVES it!"

Laura who said, "

a set of stacking cups– he loves to stack them, knock them down, nest them, bang them togetheretc."
Posy who said, "Current favorite toy is the Fidelia by Haba."
Amanda who said, "My child's favorite toy right now would have to be The Fold N Ride fromKettler he would ride it all day if he could."
Kristen who said, "Right now my 2 year old son's favorite toy is his plasticlawnmower. Every night to go on a walk I ask him if he wants to "mowother peoples' lawns." That way we get a few blocks in and he doesn'teven notice because he just moves from lawn to lawn pushing his lawnmower. My 4 month old is way too into his fists at the moment to play with any toys :)"
---
To celebrate Earth Day, CBB and PlanToys want to give you the chance to win one of their great toys. Five lucky CBB readers will win a Balancing Cactus and a Dancing Alligator. (Click here to read the CBB Green Guide to Toys.)
PlanToys' Balancing Cactus is designed for 1-4 players andpromotes an early understanding of weight and balance as children mustdetermine how to build the wooden plant without making it fall over.Hand/eye coordination is encouraged through the placement of eachcolorful "branch or prickle" onto the cactus plant. Made entirely ofeco-friendly materials, including recycled rubberwood, non-formaldehydeglue and water-based dyes, the Balancing Cactus game uses natural resources as wisely and sparingly as its desert cousin.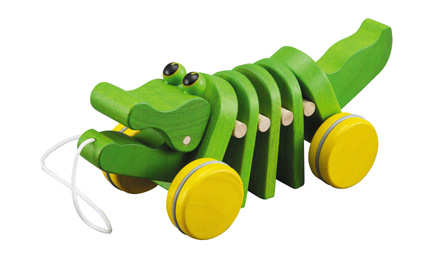 PlanToys' signature toy, Dancing Alligator,pays tributes to the long standing, eco-friendly nature of alligators.Made from 100% recycled rubber wood, non-formaldehyde glue for alljoinery and water-based paints for accent colors, Dancing Alligator waltzes through any child's play environment with a much-coveted pride that comes from surviving extinction.
Enter to win one of five PlanToys Balancing Cactus and Dancing Alligator toys. Email the following info to celebritybabyblogATgmail.com (be sure to replace AT with @).
Your full name, mailing address, and email address.
What is your child's favorite toy right now?
Visit plantoys.com and tell us three other PlanToys that you think your kid(s) would like.
Make sure you put "

PlanToys

" in the subject line in order for your entryto be counted.
Any entries that don't include all of the info will not be counted. The contest closes on Thursday at 7 am EST. (For terms & conditions, click here.)