Update: Contest: Win a Gift Tote from Rock Star Baby Organics!
Update: The winners are:
Angie, who said, "The child who will receive the gift tote is my amazing and adorable 2year old daughter Ava! She thinks she is a rock star already, wellactually more of a diva!! She will love the sunglasses and loves to puton lip balm!"
Jessica, who said, "This would be for my son Colin who is 20 months old. He really isa little rock star and I try to use all organic products for him andfeed him as much organic food as possible. He's my little nature boy!"
Jennie, who said, "my 9 month old daughter, Gia, is a little Rockstar and plays her guitar all the time! I am an avid user of organic foods and products , as I want the best for my children.
Victoria, who said, "

This would be for my 4 year daughter who just told me 2 days ago "I'm goingto be a Rock Star" – How perfect."

Kelly, who said, "My seven year old daughter will be receiving the gift bag. She loves lip balm and sunglasses!"
Alison, who said, "The child who will receive the tote is Ash, 4 months old. He'slooking forward to trying out the shampoo and conditioner and he'salways looking for a cool pair of shades for the summer. He's afraidMom might try to steal the lip balm, though."
---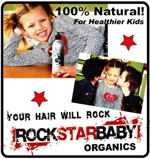 Imagine… Healthy Meets Cool. For sensitive grown-ups too. Is your baby a Rock Star Baby? Lu Lu's American Baby Organics is excited to introduce their hot new line, just launched, Rock Star Baby Organics ! Featuring "Paparrazi Lime" Organic Shampoo! Carolyn Richards, Founder, said, "I took the hottest cocepts right now, natural and organic, with cool, hip, new moms, and combined them!"
Rock Star Baby Organics sells out just as fast as they can make it! (yes, it's all made by hand by a team of moms!) NO DYE. NO ARTIFICIAL FRAGRANCE. NO PARABENS. NO CHEMICALS. 100% Natural, For Healthier Kids. Organic Baby. Cool Baby.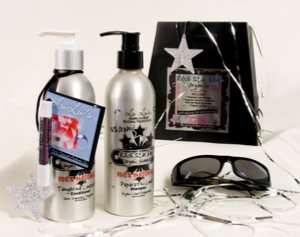 We are giving away SIX Rock Star Baby Organics Gift Totes! Includes:
1 organic "Paparrazi Lime" Shampoo
1 organic "Tangerine Limousine" Conditioner
1 organic Rock Star Lip Balm(healing stick)
1 pair of Rock Star Sunglasses (child size)
Click Continue Reading for the details!
Enter to win one of six Rock Star Baby Organics Gift Totes (a $36 value)! Email the following info to celebritybabyblogATgmail.com (be sureto replace AT with @).
Your full name, mailing address, and email address.
What are the ingredients of the Rock Star Baby Organic Lip Balm?
Tell us about the child who will receive the gift tote.
Make sure you put "Rock Star Baby" in the subject line in order for your entryto be counted.
Any entries that don't include all of the info will not be counted. The contest closes tomorrow at 7 am EST. (For terms & conditions, click here.)