CBB Green Guide: Happy Earth Day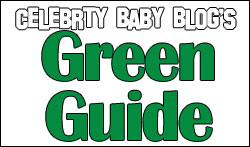 Today is Earth Day, and it's a great time to reflect on how you treat the planet. The CBB Green Guide is a great resource for anyone who's looking for more natural or safe products for their families. We took the guess work out of "green" products and searched high and low, so we could give you a list of the best eco-conscious brands and products.
Read all of our CBB Green Guides:
We have also teamed up with some of the highlighted brands in the guides to bring you some ways to win their fabulous products.
Click continue reading to see some more tips from us on how to be "greener" everyday.
Going "green" doesn't have to be a daunting task, it can really be as simple as making small changes in your everyday choices. Slowly all those changes will add up and you'll be doing your part to help save the planet.
Here are some easy places to start:
If you want to do more or just want more information, check out these great websites: