Orbit Baby: A Stroller for the New Millenium
If you're the kind of person who thinks that spending more than $500 on a stroller is unfathomable no matter how many bells and whistles it has, you might want to skip this review.
The Orbit Baby Infant System is the stroller I wish I had when Anya was born. But I was still able to try it out because the car seat accommodates up to it's approved for use up to 22 pounds and 29 inches. As long as your child's shoulders are below a green line sewn towards the top of the car seat, you are fine still using it. Most children actually get moved too soon from their infant seats because they "look" too big for it.
The main selling points are ease of transition fromstrolling to driving, full integration with other products, and highlevel of safety.
Yes, a ton of celebrities have the Orbit, but that's not why I love it. (But in case you're curious, Melissa Joan Hart, Marcia Cross, Halle Berry, Poppy Montgomery, Nicole Richie, Naomi Watts, Tori Spelling, Bridget Moynahan, Jaime Pressly, Goran Visnjic, Elvis Costello and Diana Krall, Salma Hayek, Maggie Gyllenhaal, Christina Aguilera, and so on and so forth…)
Click continue reading for the full Orbit Baby Infant System review.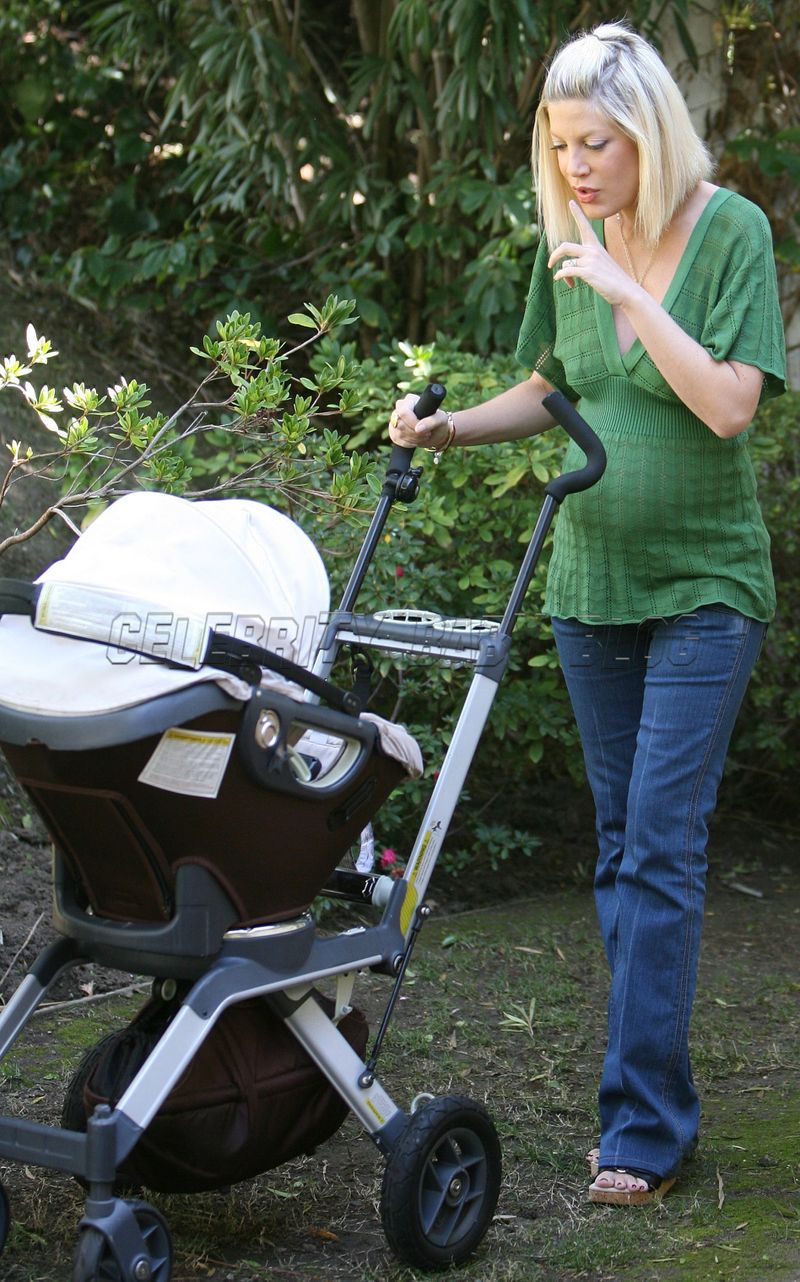 The Seat(s)
Let's get this price tag thing out of the way. Every piece of the Orbit is thoughtout completely and designed top to bottom from scratch. All of itspieces are custom engineered. Everything is designed to work togetherseamlessly. Also, the materials used are of a high quality not seen inlow end strollers. For example, the EPP foam liner on the car seat isa special energy absorbing material and is only used in toddler carseats currently.
The microfiber fabric wrapped around the seat and baseis similar to what's used for Tumi luggage. All of the materials arepremium and are there for not only style, but safety and durability aswell. Orbit also does extensive crash testing and durability testing ontheentire system. If you don't have a problem spending more money on aBritax car seat, you'll understand why it's worth paying more forsomething that goes above and beyond in the name of safety.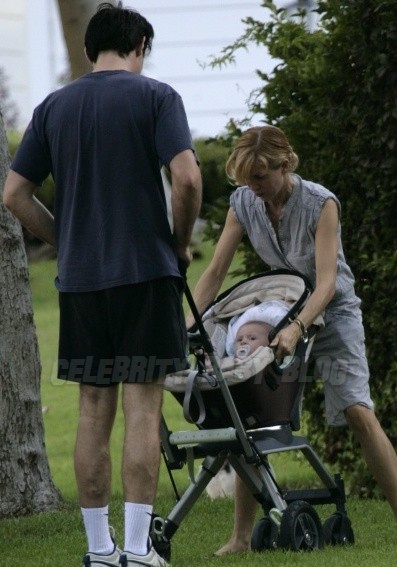 I can already hear you saying that it's just a travel system andthat a Snap 'n' Go is only $60. However, the Orbit operates in a moreintegrated, more technologically advanced and more stylish way — plus theSnap 'n' Go type strollers don't have the ability to grow with your child. Once your child ages out of the infant car seat, they age out of the Snap 'n' Go type stroller.
Being able to go from stroller to car is a big selling point for this stroller, but that's not its only asset. Putting an infant car seat in your car can be cumbersome. The seatwith your baby in it can weigh up to 35 pounds so maneuvering it intoplace in the middle backseat of your car can be tricky. The Orbiteliminates that because you can easily dock the Infant Car Seatfrom almost any angle — no need to line up any grooves or notches –then turn it to face the backseat until you hear a click.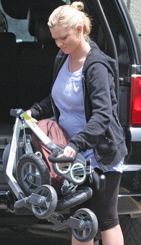 The base that the car seat docks into is the easiest piece I've ever installed. You simply use the latch connectors and then StrongArm™ technology makes a safe installation as easy and quick as the turn of a knob, literally. A couple of twists and the hub will raise (or lower) to the desired angle to achieve the perfect angle of the seat.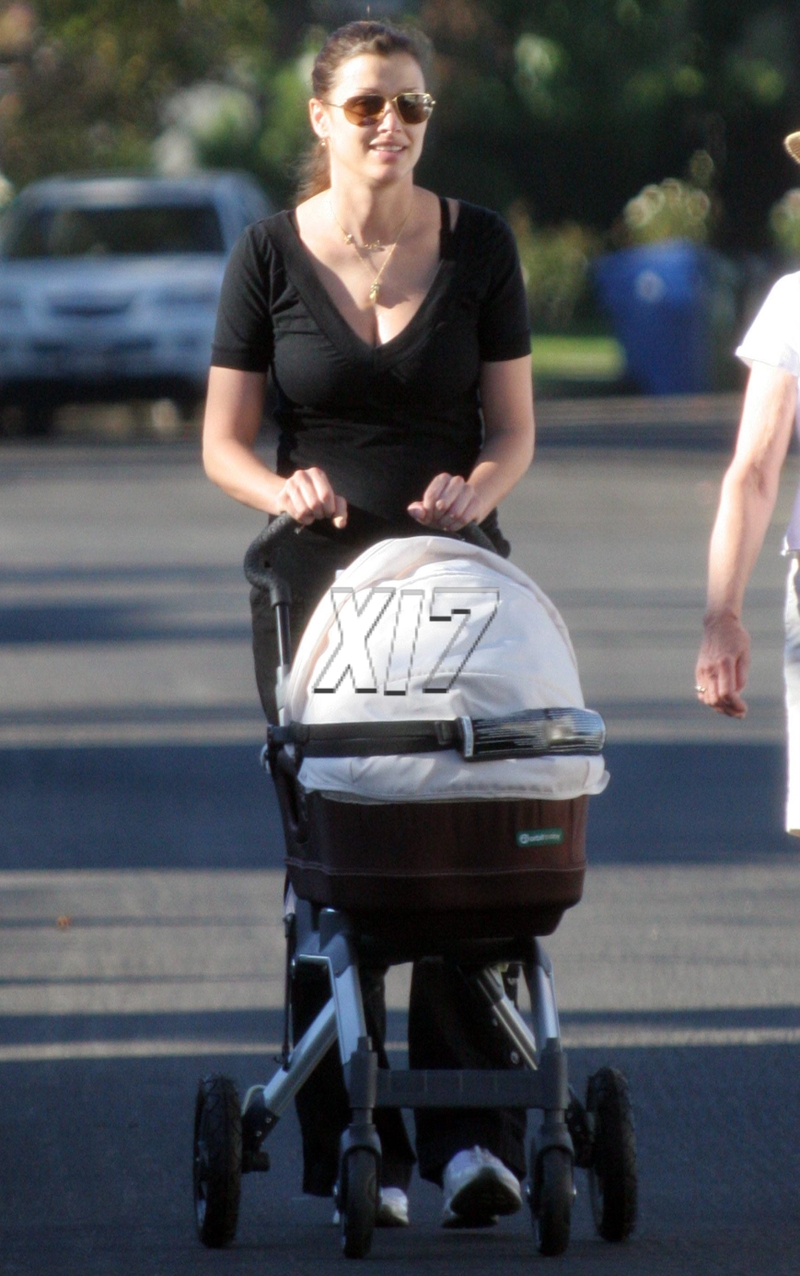 I love that the seat can face forward or backward, but what I loveeven more is that it's super easy to change position — just squeeze therelease levers and turn. AND it can also face sideways which is greatfor the museum, zoo, supermarket. With the Stokke Xplory and Bugaboos,you have to lift the seat off (although in the Bugaboo's case, you canalso move the handle but you lose maneuverability).
The sun canopy on the infant carseat and toddler stroller seat is the perfect size, as it covers the child perfectly. The infant carseat has an additional UV shield (also called a paparazzi shield) that snaps onto the bottom of the seat for full coverage. The toddler stroller seat has an additional UV shield that covers toddlers a bit more and is completely flexible.
Another marvel of the infant carseat is the carrying handle that is soft, flexible, and really comfortable. Everyone knows how heavy infant car seats are; the Orbit car seat is nodifferent — This is a heavy car seat. However, the padded handles makes carrying the seat abit more comfortable.
You also get a system that is expandable, not expendible. When yourchild outgrows the infant car seat, you can upgrade to their Toddler Stroller Seat or Toddler Car Seat.The Toddler Stroller Seat (which comes with arain cover and bug cover and retails for $180) is a 360 degree rotatingrecliningseat that docks on the stroller (but not the carseat base). If you wantto customize the look of the toddler seat, you can purchase the ColorPack for Toddler Seat (rasberry, lime or sky) with matching snack-cup. It also is completely collapsible and can be stored in a carry bag for easy transportation.
And the Toddler Car Seat, an industry first, goes from stroller to car.Like the Infant Car Seat, it rotates on their trademark SmartHub Basefor back-saving convenience — you can put it in at any direction andturn it until it locks. It can be installed rear-facing from 15-35 lbsor forward-facing from 20-50 lbs (with the included braces), up to 49inches tall. As a toddler car seat, it should rank highly in safetytests as it offers superior true side-impact protection areas made withEPP foam — a higher grade, softer and more durable material than the brittleStyrofoam EPS found in most other car seats. The company tells me thattheir testing standards exceed the federal standards. (Read more about the Toddler Car Seat.)
Also available is the Bassinet-Cradle System — a bassinetwith rocker that can also accommodate car seats and toddler seat($200). You can also purchase the rocker separately ($80), which works with all of the seats. They recently introduced a limited Green Edition of the Bassinetthat has an organic cotton interior, wool exterior, PVC- andphthalate-free materials elsewhere, plus a portion of the profits aredonated to The Nature Conservancy.
Additionally, the new rain shields for all of their products are100% PVC free (the first we've seen on on themarket). It doesn't have that chemical smell and is much betterfor your baby. No, it's not as clear as your typical rain shield. Thecompany says, "We arecommitted to being the first baby gear company to rid our supply chainof PVC, chrome-plating, and oil based packaging inks, along withdeletions of reductions in a host of other bad-for-us, andbad-for-our-world, chemicals and materials." They are also launching aproduct rec
ycling program, so if you can't give away (or sell) youroutgrown Orbit Baby products, the company will recycle it for you. (Read more about their environmental commitment.)
The Frame
The fold is pretty easy. You do have to take the seat off, then turn the green twist grip, lifting andfolding the handlebars down. When it's fully collapsed, it locks shut with a green clasp. Unfolding is easy too — you release the green clip, pulling the handlebars upward. It also folds down relativelysmall and the aluminum alloy frame is light so you don't hurt yourselfputting it in your car's trunk.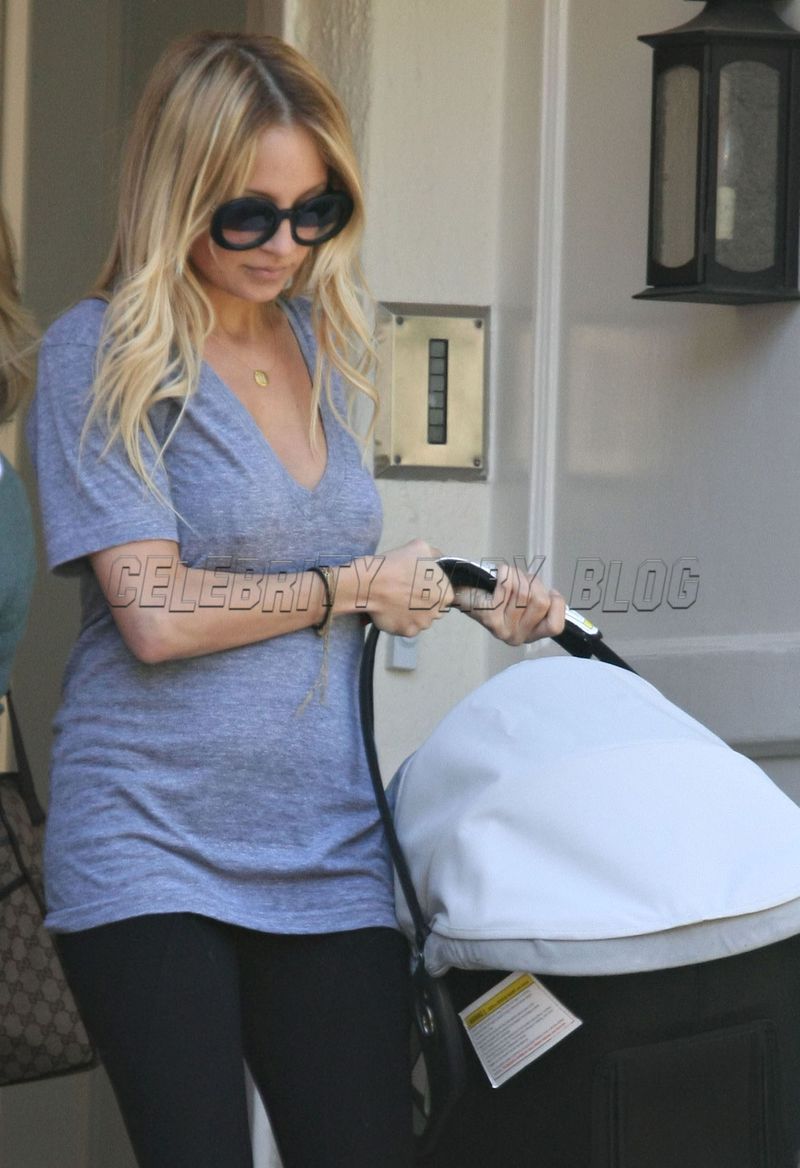 Other nice features include two drink holders and adjustableheight handles. It also has a storage system called Cargo Pod. While it's not the roomiest storage system, it gets the job done and is completely removable with a carry strap.
The Ride
The front suspension is outstanding. It maneuvers very well, even intight spaces and the ride is super smooth. Just a tad less smooththan the Bugaboo because its air-filled rear tires aresmaller, in order to fold down as efficiently as possible and weighless. The back wheels absorb a lot of rough terrain. We've used this stroller in all sorts of conditions and always been pleasantly surprised with its performance.
Final Thoughts
Here's what I don't love about the Orbit.
Having trouble finding a place to hang my bag.
The basket is not as easy to get stuff into.
When using the infant car seat, there's no recline.
Need to set two separate brakes to park it.
No rain shield for the infant seat. Orbit told me that the sun-shade on the infant system that pulls down from the canopy(tucked inside) actually does provide enough rain protection to getfrom the car to inside but "I would not recommend taking a long strollin the rain with the infant system. A lot of our features weredefinitely designed with a more suburban setting which means more timein the car but it's tested very well in urban areas so far."
— Danielle
Orbit Baby Infant System Specifications