Geri Halliwell talks about the healing bonds of motherhood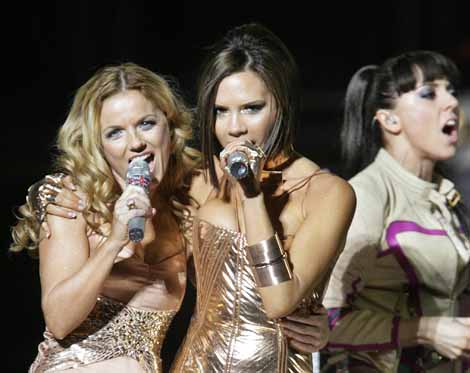 Many a mother-daughter rift has been healed with the birth of a new baby, and on occasion, it's also useful in mending hurt feelings between friends. That's what happened in the case of Geri Halliwell and Victoria Beckham, Geri tells Britain's You Magazine. After the two had stopped speaking, the pregnancy and birth of Geri's daughter Bluebell Madonna, 23-months, brought them back together. Victoria's three sons with soccer star David Beckham — Brooklyn, 9, Romeo, 5 ½ and Cruz, 3 — helped as well. "Romeo is just so sweet with Bluebell," Geri says, and Cruz and Bluebell have regular playdates. She adds,
I have huge admiration for Victoria. She had her boys with her the whole time [the Spice Girls were on tour] and she's done such a great job with them – they are all so well mannered and caring. Victoria and I are actually the biggest supporters of each other. We feel really proud of one another.
In the interview, Geri, 35, also gives props to fellow Spice Girl Melanie Brown's 9-year-old daughter Phoenix Chi whom she describes as "a delight" and "amazing with the toddlers." Geri adds,
I took [Phoenix] and Brooklyn shopping yesterday – they are all so lovely to be around.
Source: You Magazine