Deal of the Day: Playtex offers free non-BPA baby bottles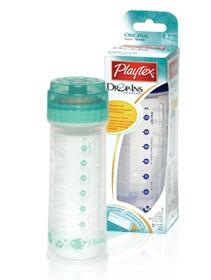 Playtex Infant Care has announced today that it will distribute one million free samples of theirPlaytex® Drop-Ins® OriginalNurser System, which are free of bisphenol A, a chemical used to manufacturepolycarbonate plastic products. It is not clear which product is being given away- one of their gift sets or just the single bottles (probably the single bottle).
ThePlaytex® Drop-Ins® Nurser system uses disposable Playtex® Drop-Ins®liners that are made of polyethylene and are BPA-free.
Get your free Playtex® Drop-Ins® OriginalNurser System at www.playtexbaby.com/bpafree/info.html.
It also announced that the rest of its product line will be BPA-free by the end of 2008.
All of their bottlenipples and pacifiers (including Ortho-Pro® and Binky®) are BPA-free. Incups, the Playtex® Sipster®, Insulator®, Coolster®, Quick Straw® areall BPA-free. To see if any of the Playtex products you own contain BPA, visit www.playtexbaby.com/bpafree/info.html.
In a related story, Wal-Mart announced last week that it will immediately stop selling baby bottles, sippy cups, pacifiers, foodcontainers and water bottles made with BPA in its Canadian stores.