CBB Green Guide: Baby gear that is safe and better for the planet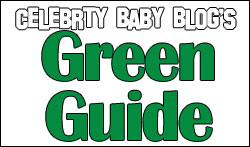 In our third installment of the CBB Green Guide,we'd like to bring to your attention to great baby gear that is made with saving the environment in mind. We spend a lot of money each year on gear and accessories for our children. And much of it is made from materials that don't help protect the environment.
Click continue reading for some "green" gear that will keep your baby, and the planet, safe and happy. Click here to read our previous article on "green" toys.
While it's becoming more common to find toys and clothes that are made with our planet's future in mind, baby gear that is made from eco-friendly materials can actually be harder to find. But thanks to a couple of companies it's becoming a bit easier every day.
Baby-Wearing
Sakura Bloom makes some of the most beautiful ring slings we've ever seen. And, just this year they introduced their Luxe line of silk baby slings. Each sling in the line is hand-loomed made of natural dyes and completely eco-friendly. Sakura Bloom also supports Machik Inc, a non-profit, non-governmental organization working with Tibetan communities to promote sustainable development. (Read our review of Sakura Bloom's slings.)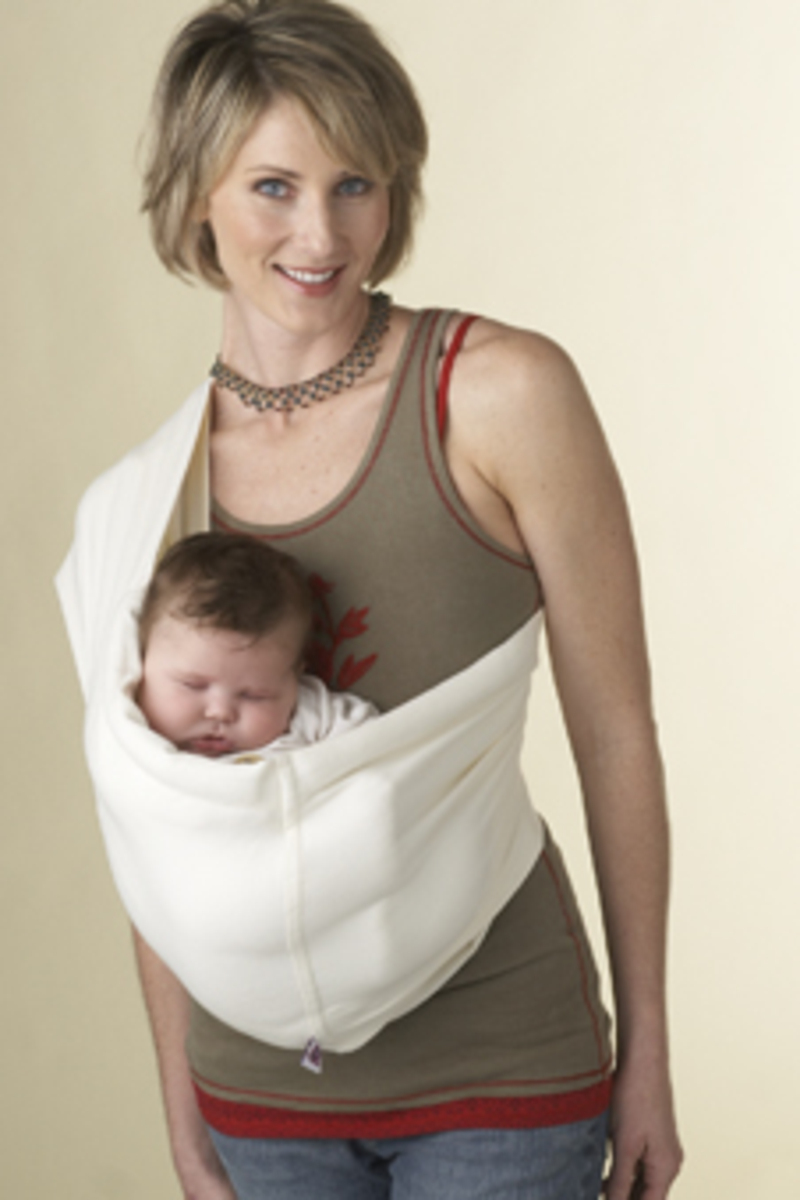 Popular pouch sling company, HotSlings has a fabulous organic line.Each sling in the line is made from a hemp/organic cotton/Lycra blendstretch twill that is undyed and unbleached. Hemp fiber is known forits strength, durability, and efficiency –making these slings an excellent, built-to-last choice! Like allHotSlings products, they feature the signature leg padding built in.Right now the organic line only features two colors, Natural andParisian Blue, but we have a feeling more colors will be coming soon. (Read our review of HotSlings.)
Belle Baby Carriersare quickly establishing themselves as the must-have baby carrier. Andjust recently they've introduced their organic line of baby carriersthat come in moss green, sand and black. Each organic carrier is madeof a 100% organic cotton/hemp material blend and lined with organicfleece cotton. The Belle Baby Carrier also uses a yoga mat piece aspadding behind the buckle to help reduce landfill waste. (Read our review of the Belle Baby Carrier.)
Nursery Decor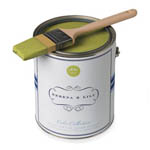 Serena & Lily pride themselves on creating products for baby's nursery that are safe and as natural as can be. Included in their line is the Serena & Lily Signature Paint Collection that has zero VOCs (Volatile Organic Compounds) and low odor, enabling you to create a nursery for your baby that you'll feel good about. (Read our review of the Serena & Lily Signature Paint Collection.)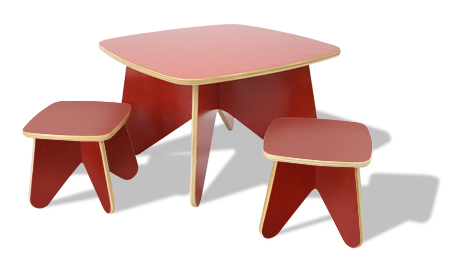 If you're shopping for environmentally friendly furniture, you should consider ecotots. They design and manufacture a full-line of environmentallyfriendly, real wood furniture for kids. Allof their products are made from renewable FSC Certified Smart Wood, andare available in a variety of eco-friendly, UV finishes. Their Project Table and Stools is the perfect kid solution for a spot to do arts and crafts.
Baby hammock sleeping systems are on the rise in popularity. They provide a safe place for baby to slumber and their subtle movements help baby feel like it's back in the womb. Hushamok is one company making these fabulous baby hammocks. Each Hushamok hammock is made from high quality pre-shrunk machine washable 100% organic cotton that isdouble-lined and backstitched. The hammocks are available in Green,Orange, Pink, Blue and Natural.
One thing you might never think about, but that actually requires your attention is the crib mattress. More and more babies are suffering from allergies and asthma. Natural Mat makes a great alternative for a more natural mattress. Their natural latex is 100% hypoallergenic and offers completeprotection from house dust mites. Every Natural Mat has a removablepure cotton outer cover that can be machine washed which offers further allergyprotection. And all their raw materials come from 100% renewable and sustainable sources that complay with Fair Trade policies. They also offer Organic Crib Bedding. (Read our review of Natural Mat.)
Diapers
Cloth diapering is, of course, the most earth friendly way to diaper your child. Did you know that disposable diapers contain traces of Dioxin, an extremely toxic by-product of the paper-bleaching process, and Tributyl-tin (TBT), a toxic pollutant? And, while noone knows how long it takes for a disposable diaper to decompose, butit is estimated to be about 250-500 years. Yet many of us usedisposable diapers for their perceivable ease of use. We've got somegreat diapering alternatives you can consider.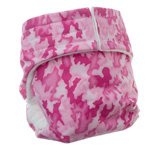 Happy Heinys is one of the largest manufactures of modern reusable diapers. And for good reason, they of
fer a wide range of product from Pocket Diapers, to One Size Diapers, to beautiful Diaper Covers,they have everything a cloth diapering parent could need/want. Alltheir diapers are sewn by one of three women, who are work-at-home-moms(WAHMs). (Read our review of Happy Heinys' cloth diapers.)
Another great cloth diapering choice, and one of our personal favorites, is bumGenius. bumGenius cloth diapers are designed to makecloth diapering easy for every-day people. bumGenius diapers areavailable in a variety of styles and colors, from theultra-customizable One-Size Cloth Diaper, to the incredibly simple All-in-One Diaper, or the super-soft Bamboo Fitted. bumGenius also offers great cloth diapering accessories like a Bottom Cleaner and Odor Remover spray, as well as bamboo and flannel wipes. (Read our review of bumGenius.)
Blueberry Diapers and Cute Tooshies are some other cloth diapering companies with great products. You can also scour the internet for other WAHMs who sell cloth diapers, Hyena Cartis a popular site for finding more cloth options. We are the first toadmit that cloth diapering can seem like an overwhelming decision. Ifyou're truly interested in the concept and want to read more, werecommend the following sites and/or articles:
If cloth diapering just isn't for you, there are a couple of companies out there trying to find a middle ground. For instance, gDiapersis a flushable system that infuses cloth and disposable diapers intoone. gDiapers consist of a washable, cotton outer pant and aplastic-freeflushable refill. Everything that goes into a gDiaper flushables getsre-absorbed back into the eco-system in a neutral or beneficial way.You basically snap the liner into the "little g" pants and close thediaper around your child. When your child goes to the bathroom in thediaper you simply remove the diaper and tear the flushable at thenotch. Take the flushable part and drop it in the toilet and flush.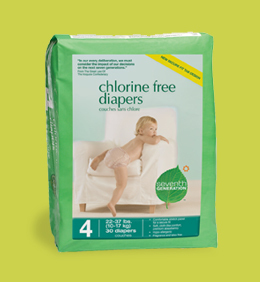 For some people, even flushing might seem like too much work. And that's why we're glad that Seventh Generationmakes Chlorine-Free Baby Diapers. They're chlorine-free,hypo-allergenic and fragrance- and latex-free. These diapers offersoft, cloth-like comfort and in addition to keeping your babydry, our absorbent polymer is non-toxic and non-irritating to baby'ssensitive skin. They also have stretchy leg gathers and resealableclosuretabs, like most major brands. Seventh Generation also offers Baby Wipes and Training Pants that are chlorine-free.
Diaper Bags and Accessories
The Patemm Pad is probably one of our favorite productsl. The round design accommodates squirmy infants and serves as a sleek,all-in-one bag for diapers, wipes, and even a change of clothes. And we're even happier to report that Patemm Pads now comes in a "green" variety. The kinaban is an organic, 233- thread-count cotton sateen that is woven in India and printed in the USA. The buhayinis an organic-cotton printed twill grown, woven, and printed in theUSA. Both prints, part of the the algodon collection, use fiber reactive low-impact inks and dyes, which aremore gentle on the environment. (Read our review of the Patemm Pad.)
The search for an eco-friendly diaper bag can leave you exhausted –many bags are coated in plastic or treated with other harsh chemicalsto resist stains. And while we respect the attempt to keep our bagsclean, we would prefer a more natural option. Superstar diaper bagcompany, Fleurvilleaddressed this problem head on. They pride themselves on having a fullrange of products that are PVC- and teflon-free! And they recentlybegan creating bags with fabric treatments Green-LAM and a Re-Run line that will further minimize the impact their products have on shared resources.
Strollers
All of Orbit Baby's fantastic baby products come with their promise to use more eco-conscious practices, such as ridding their supply chain of PVC, chrome-plating and oil-based packaging inks, as well as, deletions or reductions in other bad-for-us, and bad-for-our-world, chemicals and materials.The Orbit Baby Stroller System has become one of the most popula
r travel systems among celebrities and we have a feeling their Green Edition Bassinet will soon be the must-have accessory. The Green Edition Bassinet's interior is made of 100% organic cotton with a durable natural wool exterior. All the materials used to make the Bassinet are PVC- and phthalate-free. Right now the Green Edition Bassinet is sold as a separate accessory to the Stroller System and is available at shoporbitbaby.com for $650.
Bottles and Sippy Cups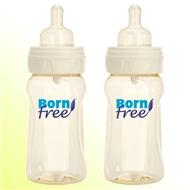 If you've missed all the press on BPA (bisphenol-A) and it's harmful effects, click here. Baby bottle company, Born Free, is making great strides to educate parents on the dangers of BPA and offering a more natural alternative. Their bottles and sippy cups are totally free of BPA and come in a range of sizes and variations.
Another bottle company trying to change the way we feed our infants is Adiri, makers of the Natural Nurser Ultimate Bottle. The Adiri Natural Nurser Ultimate Bottle is 100% polycarbonate-free andbisphenol-A free and features the only nipple truly shaped like a mother's breast, as well as a unique Petalvent that helps reduce colic. (Read our review of the Adiri Natural Nurser Ultimate Bottle.)
In keeping with the safer drinking measures, we want to mention water bottle brand SIGG. Their ingenious water bottles are helping to save the planet by encouraging people to ditch their plastic water bottles and opt for tap water. SIGG bottles have aspecial, proprietary internal coating, that isresistant to fruit juice acids, energy drinks, alcohol and virtuallyany consumable beverage. The liners are taste and scentneutral, allowing you to enjoy any beverage you'd like. The composition of theliner also reduces the chances of bacteria build-up. And because theliner is virtually baked into the inner walls of the bottle, it willnot flake or chip even if the stainless steel outer is dented. (Read our review of SIGG.)

Thermos recently launched their brilliant line of Foogo products, which offer safe drinking and food-storage containers for children AND parents. All Foogo products feature a vacuum-insulated stainless steel interior and exterior that is non-reactive to all food and beverages. Their soft drinking spouts are made from "food contact safe" Thermoplastic Elastomer (TPE). The valve plate and lid are made from polypropylene (PP#5), and all materials are FDA approved. And of course, all plastics used for Thermos Foogo products are BPA free! (Read our review of the Foogo line.)

---
Going "green" should start with a promise, a promise to help save the planet for your children and your children's children. Next, you should adopt the three "R's" into your lifestyle — Reduce, Reuse and Recycle! Lastly, let our suggestions of clothing, gear and toys to help guide you as you make purchases for your family. Together, we can make a difference!