Bertie Ahern poses with twin grandsons Rocco and Jay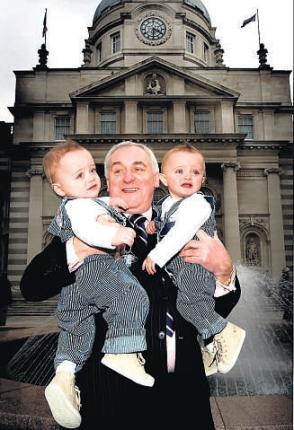 Taoiseach Bertie Ahern, 56, is pictured holding his two grandsons, Rocco Bertie (l) and Jay Nicky, (r) outside the Government buildings in Dublin on Saturday, April 19th. The fraternal twin boys celebrate their first birthday today. Dad and mom are Nicky Byrne, 29, of Irish boy band Westlife, and his wife, Georgina Ahern Byrne, 28.
Source: Irish Independent
Thanks to CBB reader Sylvana.