Philip Satchell welcomes first daughter; introducing Jemimah Livingston Satchell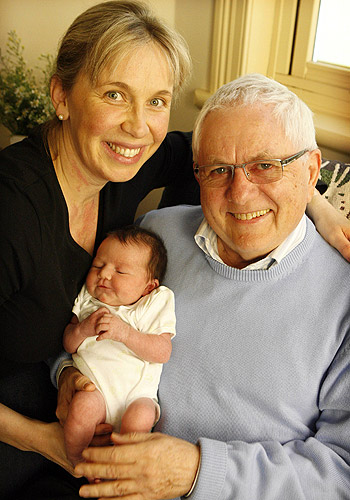 Australian radio legend Philip Satchell has become a dad for the fourth time after his wife Cecily gave birth to a baby girl. Jemimah Livingston Satchell was born at 9:48 pm on Friday, April 11th, at Calvary Hospital in Australia. Recently speaking to the Adelaide Now newspaper, the 70-year-old let slip that he was secretly hoping for a daughter, his first.
I was almost not prepared to say that to myself, but I did really want a girl. I think I tried to hide the fact that it was very important.
Seeing his wife give birth after an eleven hour labor was an overwhelming experience for the new dad, and he admits that he was too preoccupied with the whole process to even register what the sex of the baby was.
With all the pushing, I just didn't realize how physical it would be. I was holding Cecily's hand and I almost had no hand left. It didn't occur to me to find out if it was a boy or a girl. It wasn't until they were weighing her that the nurse said,`You know it's a girl?' It was just so overwhelming. But it's a sight I will never forget, to see this whole baby coming out. There she was.
Musician Cecily, 39, who was induced the day before Jemimah's birth, is just thankful to have a healthy baby.
I think we were both a bit anxious. People don't seem to have any hesitation in telling you their horror baby stories. So you hear all that and you just want the best outcome. It was just a relief when she arrived and we knew she had all her fingers and toes.

I feel great. It was hard work, but it's worth it. Very rewarding.
As he sits proudly holding his newborn daughter, Philip is also well aware that their time together is precious.
I'd love to be around for another 21 years, to be here for her 21st. That would be great.
His sons from his previous marriage, Andrew, 41, Tim, 38, and David, 37, who all live outside South Australia, are said to be thrilled and can't wait to meet their little sister. David, who is currently based in Vietnam with his partner Masa, is due to become a father himself in July.
Philip and Cecily announced the pregnancy in October.
Source: Adelaide Now
Thanks to CBB reader Betty.