Kenechi Udeze and family appear at soccer marathon event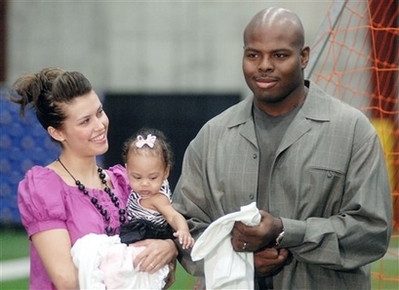 Minnesota Vikings player Kenechi Udeze, 25, made a brief appearance before a 24-hour soccer marathon on Friday, 18th April. The event was in aid of the National Marrow Donor Program and was held at the Vikings headquarters in Eden Prairie, Minnesota. He was accompanied by his wife Terrica Udeze and their daughter Bailey, 4 months next week.
Kenechi was diagnosed with a form of leukemia in February of this year. He has since revealed that it's in a state of remission.
Source: Yahoo