Jamie Salé and David Pelletier talk labor, bets, and their baby boy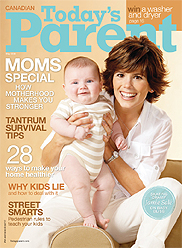 Olympic champions David Pelletier, 33, and Jamie Salé, 31, have had much to celebrate the past few years, from winning the Olympic gold medal in 2002 to welcoming their son, Jesse Joe, 7 months, last September. Although the couple had initially shared they weren't going to find out the sex of the baby, in a new interview for the May issue of Today's Parent, Jamie revealed that they had in fact known the sex all along, but were keeping it to themselves!
Since they knew what they were having, Jamie says that throughout the pregnancy, she would make bets with Dave on who the baby boy would look like, but in the end she says that she just couldn't get over what they had created together.
J: We knew we were having a boy, but we didn't tell anyone, so we'd make bets with each other: Will he have hair? What color will his eyes be? So when he came out, Dave kept saying, 'He's got hair, he's got hair!' I just remember saying, 'Look what we created.'
Continue Reading to find out who little Jesse looks like, dealing with fans, how life has changed, explaining their Olympic experience, and more.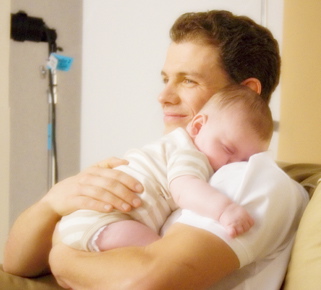 Although Dave, after seeing Jamie go through contractions, can't understand why women would want to go through labor more than once, was overcome with love when he did finally see his newborn son.
D: I was speechless at first. It was upsetting to watch Jamie go through the contractions because I couldn't help her. After watching the birth, I don't understand how women have more than one! But once I heard his voice, it took me to a place I never knew existed.
Jesse taking after his father doesn't bother Jamie one bit — she's actually very happy about it!
J: Oh, he's dad! He's a Mini-Me of Dave and everyone says it, but that makes me happy since I think Dave's pretty handsome.

D: Physically, he's about Jamie's size.… OK, maybe not, but he does have her nose. And he always wakes up with a smile, just like she does.
The couple also discussed how their lives have changed since becoming parents.
D: Well, last night it was 8:15 p.m. and all the lights in our house were out. I'm not kidding — we were asleep! People tell you, "Your life will never be the same," or "Kids are so much work," but I don't see it that way. I just go about my days with my little boy.

J: He comes with us everywhere; he's already been on a plane and a tour bus. And for travel, we're used to packing small suitcases, but now, it's almost embarrassing how much we have to bring — he has way more stuff than we do!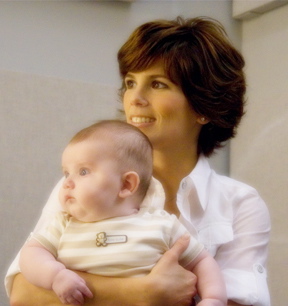 As a couple in the public eye, Jamie and David often have fans approach them while they're out with their son.
J: Well, some people want to grab his fingers or rub the top of his head and I think it's kind of cute. We don't want to shelter him. Actually, he's a chick magnet — Dave's very proud.
The magazine wondered how the couple will answer questions about having their son skate.
D: If he wants to skate, that's fine, but I want to give him choices. Life has so much to offer and as long as he finds a passion — skating, golf, playing guitar, writing poems — I'll be there to back him up.

I always wanted to play in the NHL and I didn't get to do that, but I've had a great life and I don't need to live my dreams through him. Still, I don't really see how he couldn't like hockey — he's got my genes.
On explaining their Olympic experience to Jesse:
J: He'll see the pictures and medals and we'll take it from there. Or maybe he'll go to school and hear it from one of the other kids, "Your parents are Olympic champions!" But that's definitely not the first thing we'll teach him.

D: As for what happened with the controversy, that's easy. I'll say, "We went to the Olympics and did our best, but life doesn't always turn out the way you want." What happened to us happens to many people every day at work — our experience was just in front of millions instead of at an office. You deal with it.
The couple discussed how parenting has made them stronger or weaker as individuals.
J: If anything, I feel more vulnerable. Sometimes when he cries, my world just stops and I feel like I'm weak. But I'm so happy to have him here. I look at him every day and say, "I've waited my whole life for you." I guess knowing that he's depending on me has made me grow.

D: I know I wasn't a bad person before, but now I'm trying to be better. He makes me want to be more patient and nice because I want him to see that behavior. My dad always said, "Watch what people do rather than what they say." So I want to do more and talk less.
On how Jesse has changed the dynamics of their relationship:
D: We already know how to work together because we've been doing it for years. When we skate, we have no problem saying, "I need you to do this or that." But now we're learning to work together as a team without being on the ice.

J: Things haven't changed that much between us. Dave and I made sure we were in a good place in our lives so that having a child wouldn't be filling a void or completing our family but adding to it.
On each other as parents:
D: As a mother, Jamie's absolutely everything I expected her to be. The only thing I worried about was how much she loves to sleep. I always thought, "What is she going to do if we have a kid?" But she's amazing; she adjusted like a champ.

J: Dave's always been emotional and sensitive for a guy, but it shows a lot more since Jesse's been here. When we took Jesse for his first vaccinations, the nurse handed us a box of Kleenex and I said, "Who needs them?" Then I looked at Dave — he had tears streaming down his face because he didn't like having to restrain Jesse for the shots.

D: You know, I look at my own mom differently now. I used to think she was such a suck! She'd cry when I took to the ice, whether I skated well or badly. She'd cry when I left the house. But now I understand: I'm away from Jesse for three hours and I miss him so much. I respect my mom's emotion a lot more.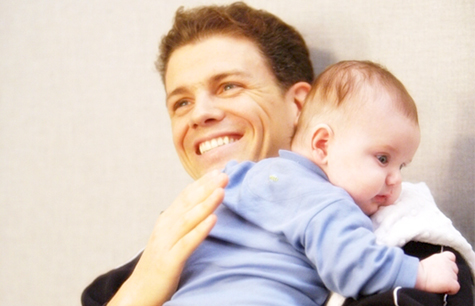 What they want to teach Jesse:
D: Respect. I want him to be a gentleman and I'd love for him to treat people the way he wants to be treated.

J: How to be happy. That's the biggest thing we can give our children: We can show them how to have fun and really live.
There are tons of outtake photos here, including some of the family all together!
Source: Today's Parent
Photos by Curtis Trent.
Thanks to CBB reader Mary.