Update: Kyle MacLachlan and Desiree Gruber expecting first child, a son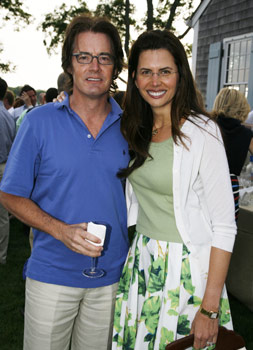 Update: Kyle announced on Regis & Kelly this morning that he and Desiree are expecting a son.
It's a boy. I've got the golf clubs out already, so we're going to make him into a little golfer. We're trying to go through the name thing now. She shot down my first idea: Jethro. She didn't like that idea. Being from Scotland, he could be like, MacIntosh MacLachlan. You want a nickname that's going to be cool.
Originally posted February 8th: Desperate Housewives and Sex and the City actor Kyle MacLachlan, 48, and his wife, Project Runway executive producer Desiree Gruber, 40, are expecting their first child in mid-July. Kyle, an avid golfer, tells Page Six,
I've got a little set of golf clubs all ready. Just not sure if the club head covers will be pink or blue.
Kyle and Desiree have been married for six years.
Thanks to CBB readers Tracy and Britt.