Update: Contest: Win a copy of Cloverfield on DVD!
Update: The winners are:
Torri, who said, "I would love to win this DVD for my awesome husband, Clint. He is traveling to Iraq soon for a 1 year deployment, and would love to see this movie before he goes. We literally have no money, not even enough to pay half our bills, so we won't even be able to rent it. He and I would greatly appreciate this!!! We did not see this movie in the theater."
Laurie, who said, "I will keep the DVD. It was interesting with the camera angles. I would like to see the special features too."
Misti, who said, "If I win, the recipient will be my favorite papa in the world, my husband. He has unselfishly given up going to movies for the present, so I don't have to leave our new daughter with a sitter or be home alone with her at night."
Nicola, who said, "I did not see Cloverfield in the theatre, with 3 kids that's an impossibility! I will be the lucky recipient, perhaps it can be a Mother's Day gift!"
---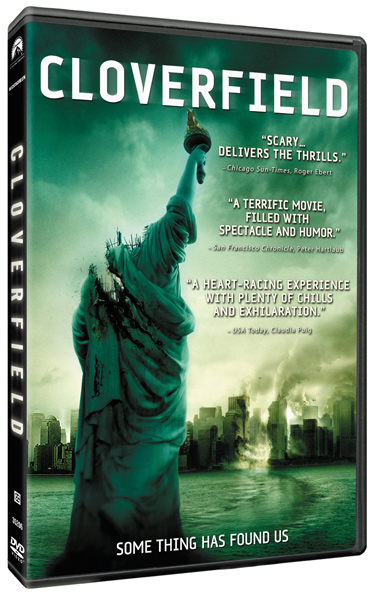 Discover more clues and unravel the mystery of producer J.J. Abrams' and director Matt Reeves' monster hit when CLOVERFIELD smashes its way onto DVD April 22, 2008 from Paramount Home Entertainment. Earning over $80 million at the domestic box office, CLOVERFIELD thrilled critics and audiences alike with its shocking, first-person video account of a horrifying attack on Manhattan by an unknown—and seemingly unstoppable—force. Called "a true milestone" (Harry Knowles, Aint It Cool News), "a real jolt" (Michael Phillips, Chicago Tribune) and "a giant shot of adrenaline" (Leonard Maltin, "Entertainment Tonight"), CLOVERFIELD delivers "a terrific movie, filled with spectacle" (Peter Hartlaub, San Francisco Chronicle).
The CLOVERFIELD DVD features revealing bonus material including alternate endings, deleted scenes, "The Making of CLOVERFIELD", a look at the visual effects, commentary by director Matt Reeves and more.
The CLOVERFIELD DVD is presented in widescreen enhanced for 16:9 TVswith Dolby Digital English 5.1 Surround, French 5.1 Surround andSpanish 5.1 Surround and English, French and Spanish subtitles. TheDVD includes the following special features:
• Commentary by director Matt Reeves
• The Making of CLOVERFIELD
• CLOVERFIELD Visual Effects
• I Saw It! It's Alive! It's Huge!
• Clover Fun
• Deleted Scenes with Optional Commentary
• Alternate Endings with Optional Commentary
Enter to win one of four Cloverfield DVDs! Email the following info to celebritybabyblogATgmail.com (make sure you replace AT with @).
Your full name, mailing address, and email address.
Did you see Cloverfield in the theater?
Who will be the lucky recipient if you win?
Make sure you put "

Cloverfield

" in the subject line in order for your entryto be counted.
Any entries that don't include all of the info will not be counted. The contest closes tomorrow at 7 am EST. (For terms & conditions, click here.)