Celebrating Celebrity Baby Birthdays — Suri Cruise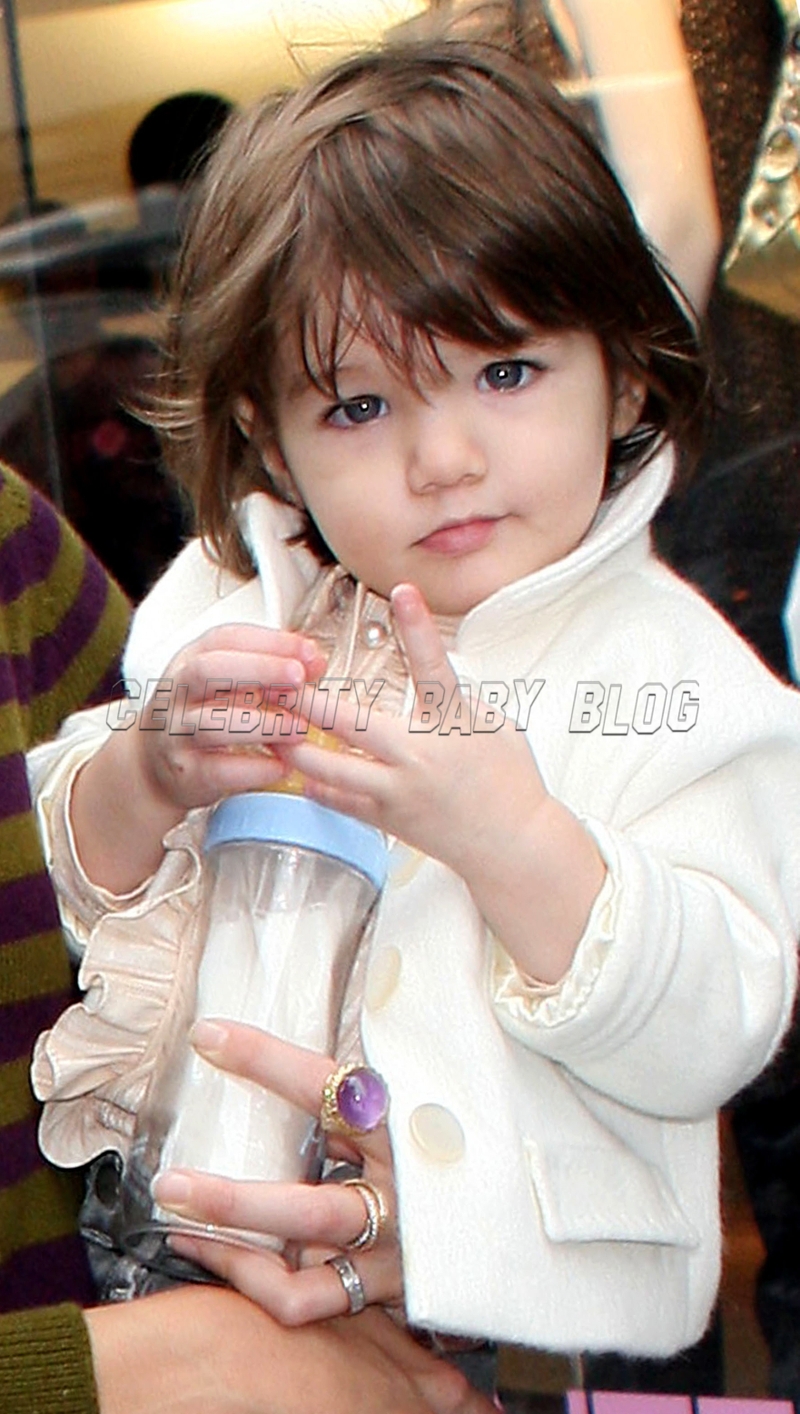 Happy Birthday Suri Cruise! You are now 2 years old!
Name: Suri Cruise
Birthday: April 18th, 2006
Famous for: Being the first child of actors Katie Holmes and Tom Cruise. The couple began dating in April 2005, were engaged by June and then welcomed Suri the following April. They were married in November of 2006.
Name meaning: The couple say that they found Suri's name in a baby book and both instantly loved it! Suri is Persian for 'red rose' or Hebrew for 'princess'.
Click below for more info and lots of photos!
Birth story:
It is rumored that Suri arrived in silence. Scientology calls for as much quiet as possible during the birth. She was born at 3 am at St. Johns Hospital in Santa Monica, CA and weighed in at 7 lbs 7 oz. and 20 inches long. Katie had a natural birth.
Tom was previously married to Nicole Kidman with whom, he has two children, Isabella Jane, 15, and Connor Antony, 13. Tom's sister, Cass, and her children also live with them as well as Tom's mother, Mary. There have been various rumors throughout the last year that claimed Katie to be expecting — none have yet proved true.
Life so far:
She is the daughter of two incredibly famous actors, whose lovestory is even more famous, but Suri Cruise has already lived amazinglywell, and she is only one year old. Suri has traveled the world – fromAmerica, to Italy and Australia (when mom, Katie was pregnant) and to France for her parent's friend's wedding. She even attended her first Oscars.She has wore Armani and dined with the rich and famous. This gorgeousgirl is one lucky child! She is adored by the media (and the world) andthey were so anxious to see her that they started to question herexistence and the legitimacy of Katie's pregnancy. Suri's age and daily activities continued to be questioned by all gossip lovers.

The pregnancy:
How did Katie spend her time? She mostly attended the sport games of Connor and Isabella's. She also shopped and shopped and went for coffee, coffee, coffee. Check out the different angles of Katie's belly too and the whole shrinking and growing theory.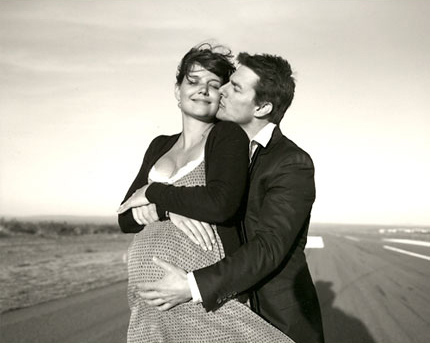 Tom and Katie also did a shoot with GQ Magazine during Katie's pregnancy.
On the discovery of the pregnancy; "Oh, I—I looked at her. And Iwent, 'You're gonna tell me if you're pregnant, aren't you?' It was amoment where… It was one of those things. And I knew at that moment shewas pregnant. 'Cuz I notice things in people."
Gear and Fashion: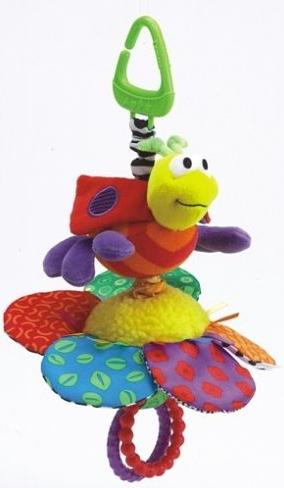 Lamaze Flutterbug ($11.70).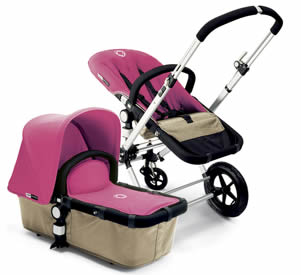 A Bugaboo Cameleon in sand and pink ($899) was spotted on the veranda of their Telluride home last year.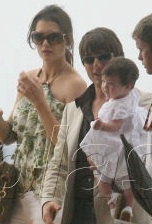 When returning from her parents honeymoon Suri wore some gorgeous espadrilles by Janie and Jack. Unfortunately they are no longer available.
Bonpoint is a favorite of Katie's for onesies for Suri.
Suri was decked out in an Armani outfit for her parents wedding in Italy last year.
What they said: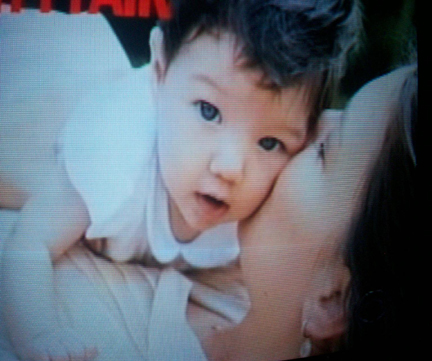 Suri made her debut in Vanity Fairwhen she was just over 3 months old. After much skepticism and suspicion Suriwas introduced to the world in an issue with a family portfolio ofpersonal pictures. The tag line was a play on the term "Yessiree," or the song "Yes Sir She's/That's My Baby," reading, "Yes Suri, She's Our Baby!" The photos were shot in Telluride, CO. The article had these highlights:
Katie thought she was expecting a girl, but apparently did not find out the sex ahead of time; "I was craving pink the whole nine months."
Katie loved being pregnant; "I was overjoyed in beingpregnant…and then had to withstand ridicule about my pregnancy whenit was the most normal, non-controversial thing imaginable."
The rumors about her family and the existence of the baby really bothered Katie; "It'sreally frustrating the amount of shit that's out there. And the stuffthey say about Suri?! You shouldn't say that about us, and you can'tsay that about my child."
Why did we have to wait so long to see Suri? "We were always going to release a photo. We weren't trying to hide anything."
Why did they chose Annie Leibovitz to take the photographs? "Annie is the only professional photographer who ever shot Bella and Connor as children."
Katie on being a first time mother; "The moment the doctor handedme Suri…I was just ready. The feeling is indescribable. All I can sayis the moment I looked in her eyes I felt like … Mom. She's aglorious girl. She's the miracle of our life."
Who does she look like?
Tom: "She has Kate's lips and eyes. I think she looks like Kate."
Katie: "I think she has Tom's eyes. I think she looks like Tom."

While at the Armani fashion show Katie talked of her love for Suri and how she is doing; "I love it! Suri is doing really well. She's a beautiful little girl, and I feel so honored to be her mom, really."
Suri adores the outdoors; "She loves just being outside right now!" em>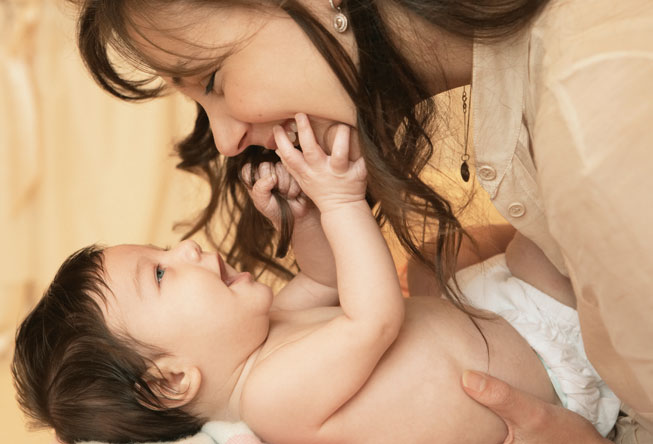 Katie also appeared on the March cover of Harper's Bazaar and spoke of motherhood, returning to work and the empowerment of pregnancy and birth.
On adoring her children; "I have a husband and children that Iadore. I have a career that I really love. When I sit back and reflect,it's-wow! I am very grateful."
Pregnancy and the birth of Suri seemed empowering; "I felt soproud to be having a baby and so excited. And I felt closer to otherwomen-to my sisters, to my mom. I felt empowered, like 'I've givenbirth. I did it! There's nothing I can't handle."
Getting to know Suri and learning to be a mom; "I've reallyenjoyed this time that I have taken to be with Suri as well as thechallenges of the first couple of months: feeding and pumping, learningto decipher what each cry means-is she hungry? Is she tired? Does sheneed a fresh diaper? And figuring out how to really help her."
Going back to work; "My family is very important to me. When I goto work, it will be the right thing, worth my time and worth my timeaway from my family."
Pictures: