CBB's Green Guide: Toys that are fun and safe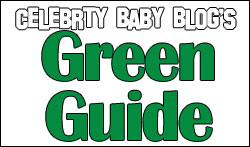 It's important that the toys our littles ones play with be safe and as natural as possible for many reasons. Most importantly because kids tend to put toys in their mouths. If all the toy recalls from last year taught us anything, we should now realize how important it is to watch out for toxic materials, such as paint!
Click continue reading for our favorite "green" toy picks and some tips on what to look out for when purchasing toys! Click here to read our previous article on "green" clothes.
Here are some basic tips for going green with your child's toys:
Go for wood
Go for PVC-free
Go for no batteries
Go for second hand
Go for non-toxic paints
Go for locally made
If you've never heard of PlanToys, you've been missing out. This company has been making eco-friendly toys for decades, long before going green was the "in" thing to do! They craft their toys from wood that is non-chemically treated and they use water based colors that are safe and suitable for children of all ages. They've even come up with non formaldehyde glue, which is a non-toxic paste that is totally free from formaldehyde emission. And best of all, the toys are adorable, functional and completely fun to play with!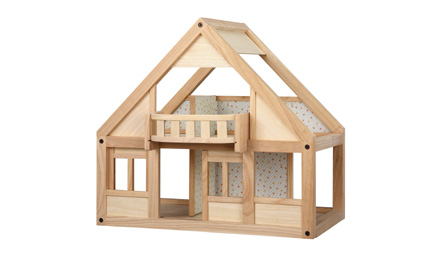 The PlanToys Dollhouse (right) is the perfect introductory dollhouse for any child, it's designed to be easily accessed from all sides and features four rooms which can be furnished inside as a bedroom, bathroom,living room, kitchen or dining room with different accessories setand families you can purchase to go with it. PlanToys' kitchen sets put all the plastic ones to shame! They're made of the best and safest materials and feature some amazing details. Such as the Toaster (left) that drops in and pops up the play toast and the Refrigerator that has an ice maker that really drops out ice cubes!
Another favorite eco-friendly toy company is Haba, they make excellent products for children that minimizethe ecological impact.They state on their site that they are constantly upgrading their production processes andascertaining, evaluating and minimizing the use of raw materials,emissions and waste volumes on an ongoing basis.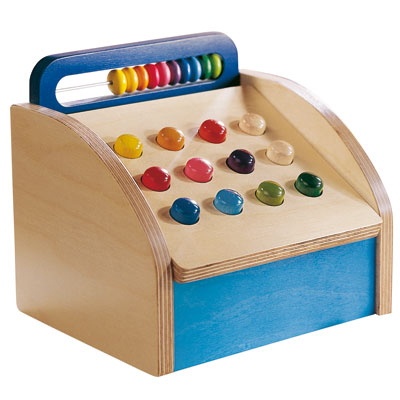 Some of that may sound over your head, but the bottom line is that these toys are safe!
Their Grocery Store sets are really great, all of the products are made from great materials like felt and smooth wood. From eggs, to onions, to cash register, to play money, Haba makes everything your child would need to set up shop. Haba's product line doesn't stop at food sets, they also have games, nursery decor and more for every developmental phase in your child's life.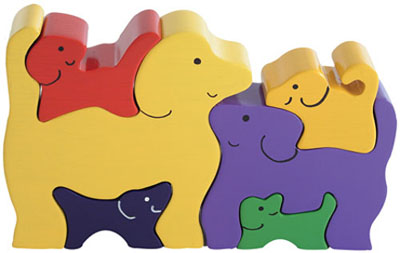 Another socially-conscious toy manufacturer is ImagiPLAY. All their products are made from eco-friendly materials, withplantain-grown rubberwood being a favorite. ImagiPLAY's products have been recognized by media outlets for their durability and eco-responsible practices. Our favorite ImagiPLAY products are their beautiful, colorful puzzles!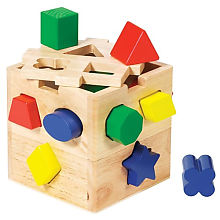 Melissa & Doug have been a beloved toy brand for a long time now, making quality toys for young children out of great materials. From puzzles, to food sets, to adorable plush, this brand covers all their bases and children LOVE the products.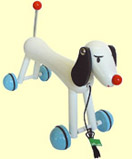 French toy company, Vilac, produces brilliant, wooden toys for children and they've been doing so since 1911. Each toy is handcrafted by artisans at Moirans-en-montagne and each one has it's own personality and features.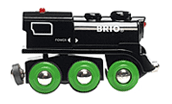 Long before Thomas the Tank Engine, there were Brio trains. These beautifully crafted, wooden trains hold an appeal that a plastic one can't touch. They seem ageless and classic and will take us all back to a more simple time with one push around the tracks.
And let's not underestimate the plastic toys, while come companies have caught heat for using improper materials in creating their toys, there are socially conscious companies out there that use only the safest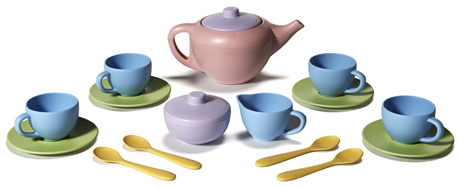 materials. Such as Green Toys! This great company uses only recycled plastics in their toys and they certify that all all their toys contain no phthaltes, BPA or lead, and meet FDA requirements for food
contact.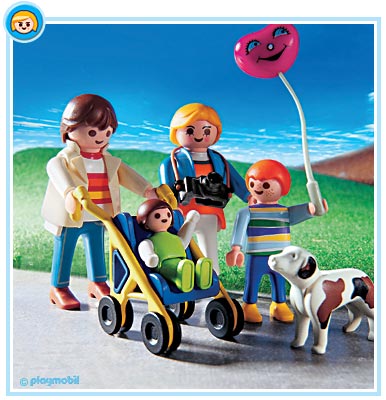 PLAYMOBIL also strives to create amazing toys that are exceptionally safe. For instance they only use 100%high-quality materials and have them all tested according to European and U.S.safety standards prior to using it in the manufacturing process.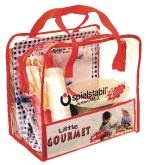 German company, spielstabil, uses high grade quality plastic to make toys that your child can get tons of enjoyment out of. They have kitchen play sets and role playing products that any child would be delighted to play with and they're made to withstand lots of use.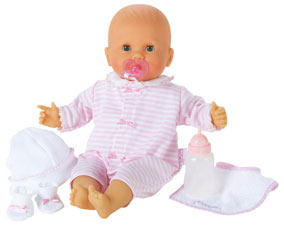 If dolls are your little ones favorite toy, you'll definitely want to check out Corolle! Their dolls are crafted of the best materials, including soft and supple vinyl and carefully rooted hair. One snuggle with these "babies" and your little one will be hooked!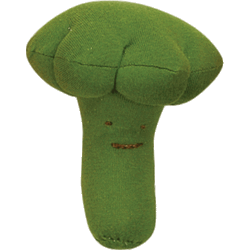 Under the Nile makes adorable toys from 100% organic cotton. Their line includes cute dolls and fruits and veggies as well as clothes and other accessories for children and infants.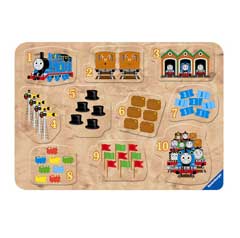 Puzzles are a brilliant way to pass some time and relax a little, and Ravensburger makes the best. They offer great quality line of puzzles and toys for preschoolers, that provide entertainment and education rolled into one.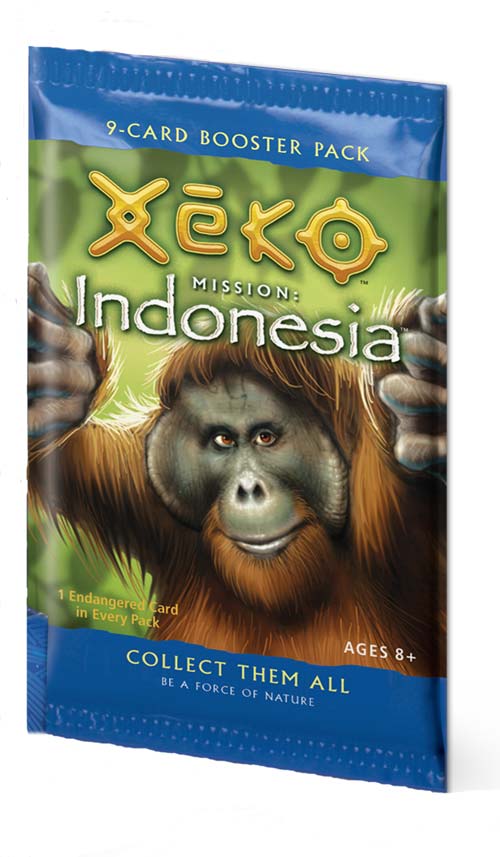 Who would have thought a children's card game could be eco-conscious, but Xeko is! Players collect and trade cards to create personalized decks and compete with friends to build the strongest Xeko-system. Gather the most Eco-points by supporting your Species cards while conserving cards in your draw pile.
There are some great online retailers who offer exceptional products that are safe for your whole family.