Update: Renee Baio shares her secrets for losing the baby weight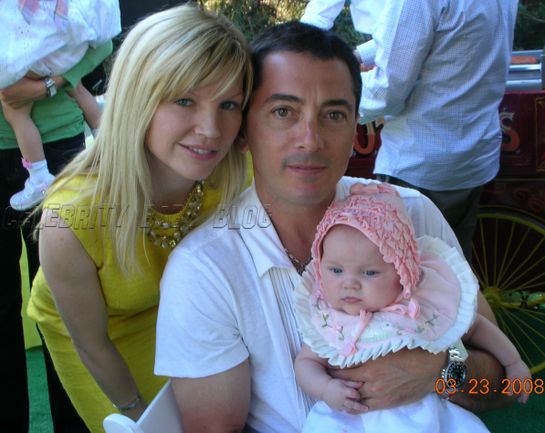 Update: Renee emailed us after seeing many readers' comments on this post. She wrote:
I had no idea so many of your readers would comment on the way I eat and workout. I am glad that you posted it from my MySpace blog. I have had over 230 emails and messages asking me about how I lost the weight since Dec of 2007. I just want people to know that this is what I do for myself (and with my Doctor's approval) and I AM IN NO WAY SAYING THAT PEOPLE SHOULD FOLLOW WHAT I DO. I was just simply sharing, that's all. I chose to put it in a blog instead of answering all of those letters.
To reiterate, Renee in no way suggests anyone follow her specific plan and advice, she's just sharing what she does.
Update April 16th 4 pm: Check out our expert's advice about following Renee's personal plan, especially if you are breastfeeding. Please note that Renee has consulted with her doctor about her diet and that she in no way suggests that anyone else should follow it themselves. Click Continue Reading.
Originally posted April 16th: Since welcoming Bailey DeLuca, 5 months, her daughter with husband Scott Baio, model Renee Baio, 35, has done an admirable job of shedding the baby weight. Now, in a new post to the family's MySpace page, Renee shares her secrets — some of which you've probably already heard, and some which may be new to you.
Click 'continue reading' to see how Renee is losing her pregnancy weight, as well as her exercise preferences.
Renee said she shies away from "man-made carbs" like bread,potato chips, white flour, etc. etc. She also follows a 1,200calorie/day diet (she is not nursing), drinks lots of water, won't eatafter 7 p.m. and avoids fried foods. Renee shared that she preferslean protein like that found in chicken and turkey and that she willonly eat red meat twice a week.
Renee also added that for a carb/energy boost she eats a bowl of grits prior to working out, that she treats herself to sweets just once or twice each week and that she uses a tomato basil soup in place of tomato sauce on her pasta during weekly outings with Scott to a local Italian restaurant. The soup, Renee said, is lower in fat, carbs and calories than traditional tomato sauce — and isn't oil-based, as sauce usually is.
In terms of exercise, Renee says she takes a spin class, goes for twice/daily walks with Bailey, plays golf and is just generally leading a more active lifestyle since becoming a mom again.
I am back to running around after a little one again after 18 years … whew!
Bailey joins big sister Kalyn, 18, at home.
We spoke to Jennifer Rosenblum, MD, of Adolescent and Young Adult Obesity Medicine at Mass General for Children at Newton-Wellesley Hospital in Boston, MA, about Renee's diet plan (she does not treat Renee). She said,
Renee's belief that she can eat anything in moderation is great, andis a very healthy attitude towards food. It is also important to staywell-hydrated and drink plenty of water. Sugar-substitutes are fine inmoderation, but plain water or water with lemon is preferred over highconsumption of artificial sweeteners and caffeinated beverages. It isgenerally healthy to avoid high-fat foods such as fried foods, as wellas minimize refined sugars and starches ("white carbs"), emphasizingwhole grains and fresh fruits and vegetables, which are rich in fiber.Limiting red meat to 2x/week or less is a good habit, as red meat ishigher in saturated fat. Poultry and egg whites are great sources ofprotein, as are fish and certain nuts such as almonds and walnuts,which are also rich in omega-3-fatty acids. Finally, staying active iskey to maintaining a healthy weight, aiming for 1 hour of activity5x/week as a goal.

Calorie goals vary based on age, gender, height, and activity level, and whether people are trying to maintain or lose weight. I think it's important to counsel people that there is not one calorie level goal that is right for everyone, and they should check with a doctor or dietitian to help set their own ideal target.
However, Dr. Rosenblum does not recommend this diet for a woman who is breastfeeding, especially the 1,200 calorie/day limit and adding the green tea mix to her water. She told us,
Breastfeeding women should take in an extra 500 calories/day. Also, caffeine should be minimizedand herbal teas should be avoided by breastfeeding women.
She also added that she has never heard about red meat staying in the stomach for 3 days and rotting, but that it's true that "a very high protein diet of any kind (not just red meat) can be hard on the kidneys."
We also spoke to Registered Dietician Lisa Craypo, MPH, and Senior Associate at Samuels & Associates. She told us, "overall, some good ideas mixed-in with some not-so-true food pop-fiction. This diet seems focused on weight loss, which is okay if you are not a nursing mom." Here's what else she told us:
Calorie Intake: The amount of calories you should eat depends on your height, current weight and activity level, so 1200 is not right for everyone. 1200 is definitely too low for a nursing mother of any size and for most women, 1200 is a low calorie weight loss diet that may be hard to maintain for a long period of time.
Iced Tea/Drink Powders: This iced tea powder has caffeine and artificial sweetener so I would not recommend this for kids or nursing moms. Unfortunately, it is hard to beat plain water when you are looking for the perfect drink. It is really better to get kids used to drinking things that are not sweet rather than give them sweet beverages flavored with artificial sweeteners.
Protein: It is really great to use lean meats like turkey, chicken, fish and egg white in place of red meat as your major protein source. I would suggest going one step further and cutting down on the amount of animal protein consumed (from any source) and getting more protein from plant sources like tofu, nuts and beans.
Abstaining from fried foods: Great – always a good rule to follow.
Meat rots in your stomach for 3 days? It is not true that meat sits in your stomach for 3 days – I am sure it leaves your actual stomach in 3-4 hours and then probably is processed in your small intestine for another few hours or so. It is true that any protein from an animal source is harder for your kidneys to process, so that is why increasing protein from plant sources is highly recommended.
Grits for breakfast: It is interesting that she eats grits since this is a "man made carb" – it is made from ground up hominy (those big, starchy corn kernels). Oatmeal or other whole grains are a much healthier choice since they have more fiber.
Tomato soup instead of tomato sauce over pasta: If you are eating out, red sauce is a pretty healthy option even if they use olive oil in the cooking. It is certainly much healthier than alfredo sauce or anther cream or cheese based sauce.
Portion sizes: When eating out, portion size is really important – restaurant portions are usually huge! Try splitting an entrée or order a 1st course size portion for your entrée or take half home to have the next day.
Sharing desserts: This is a really good rule – don't try to deny yourself all sweets, but just make sure you eat moderate portions and eat sweets as a treat – not an everyday thing.
Source: Renee and Scott Baio's MySpace page
Photo courtesy Renee Baio for use on CBB.
Could you see yourself following Renee's plan? Do you have diet tips that have worked for you?