Jessica Alba's nesting instinct kicks in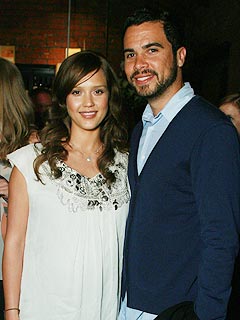 Actress Jessica Alba spoke to People Magazine at the Healthy Child Healthy World book party last evening about preparing for the arrival of her baby (whom she's told friends and companies she's worked with is a girl) in late May/early June.
I'm just trying to get my house ready before the baby comes. It's kind of hectic, it's getting close and the house isn't even ready yet.
The 26-year-old is currently not working and says it's "been a nice distraction." Jessica added that,
I'm used to having to be somewhere all the time, and it's kind of the first time in my life where I really haven't been working in a while, and now it's just about the baby being healthy, the house being ready, and nesting, it's really different. It's cool –- I feel like I'm fully absorbing the whole experience.
Aside from her nesting instinct, Jessica's also been keeping an eye on her pre-natal diet.
I have to make sure that I'm eating more of the right nutrients and vitamins, but I'm not used to eating this much I've had to take time out of the day to eat before I get cranky and rundown and tired. Before I was just like the Energizer Bunny.
This will be Jessica and her fiancé Cash Warren's first child.
Source: People
Thanks to CBB readers Mary Beth and Bre.