Gwyneth Paltrow talks about postpartum depression after Moses' birth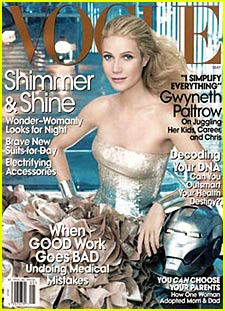 Actress Gwyneth Paltrow, 35, admits in the May 2008 issue of Vogue that after the birth of son Moses, 2, she suffered from postpartum depression.
You know, I had postnatal depression after [my second child] Moses. I didn't know I had it until after it was over. I just didn't know what was wrong with me…I felt really out of my body. I felt really disconnected. I felt really down; I felt pessimistic.
Gwyneth and husband Chris Martin, 31, also have daughter Apple Blythe Alison, 4 next month.
Source: Vogue Magazine via JustJared