New moms Halle Berry, Milla Jovovich and Courtney Thorne-Smith love L'ovedbaby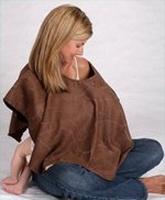 L'ovedbaby is a new favorite among celebrity mothers, with Halle Berry, Courtney Thorne-Smith and Milla Jovovich all ordering from the company which specializes in nursing related products. Not only have they ordered from the company but Halle even sent a personal hand-written card thanking the company for their great products.
Halle placed multiple orders since announcing her pregnancy and has ordered three times since she gave birth to daughter Nahla Ariela, 1 month old. Halle has ordered over 125 pieces including over 20 of the new Receiving Blankets, and 7 Nursing Shawls — plus 2 that she got from the company as gifts — a Bottle Tree and a bunch of clothing. Owner Sharon Oved told us that Halle was an absolute joy to work with.
This week the company also received their fourth order from Courtney who loves the Cotton Basics (and also owns a Bottle Tree and Nursing Shawl) for her new son, Jacob Emerson. Sharon added, "She's very, very sweet as well."
Lastly, another really sweet new mom, Milla, ordered the Nursing Shawl in Grand Sand and has a few of the Cotton Basics Clothing pieces for her daughter, Ever Gabo.
CBB Deal: Save 10% on your order at lovedbaby.com through the end of April when you use coupon code CBB-April .