Introducing our newest contributor, Carlie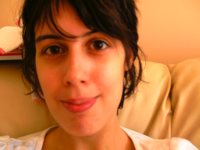 I'd like to introduce you to Carlie, our newest contributor. She's been helping us out behind the scenes for the last couple of months and has recently started writing for us.
Carlie lives in Wales with her husband, Jamie, and two baby daughters Charlie and Courtney, who were born on the same day – just a year apart (Sept 21st 2006 and 2007). At the minute she's a stay-at-home mum, but when the girls get a little older she hopes to go to college to study journalism. In her spare time she enjoys reading books by Irish author Cecilia Ahern, going out for meals, taking the girls to the local baby play centre, reading celebrity magazines and, of course, catching up on the news featured on CBB.